Andre Davis - Tattoo Artist

By Matt Tuohy
Friday - October 24, 2008
|
Del.icio.us
AUTOFOCUS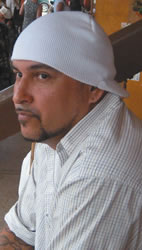 Andre Davis - Tattoo Artist
Andre Davis was late for our interview, but with good reason: Unlike most artists profiled in this column, Davis' canvas has the ability to get up and walk away.
Davis has been in the tattoo industry for about 20 years and loves everything about it. He owns and runs Rock Solid Tattoos in Honolulu, and does one to two tattoos per day, depending on how much time is needed for each job.
The majority of Davis' work is Polynesian-and Asian-inspired, like koi fish, dragons and even Buddha. But he says he can do anything with his tattoo machine.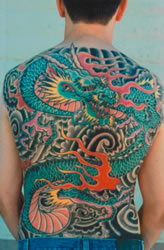 Davis says he can tattoo almost anything from Polynesian to Americana designs
"I don't like to paint myself into a corner and just be able to do one thing," he says. "I've acquired the skills to be adaptive in all different forms of tattooing. It really makes it convenient for a lot of people because there's a wide variety of things I can provide for them."
But is it art? To Davis it is. "A lot of people overlook (tattooing) as an art form," he says. He further explains how painters can take their time on each stroke, take breaks or paint over mistakes. For Davis, however, it's a different story. He lists the difficulties with people jumping while he's working and the diversity of skin color. But his main theme in tattooing, like many things, is that it's a creative process.
"You can find art in anything," he says. "In tattooing, I find art not only as rendering an image, but for people it's an art form of self-expression.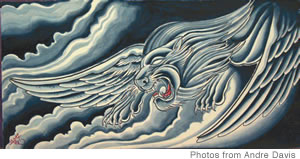 Davis says he can tattoo almost anything from Polynesian to Americana designs
"I can render an image on a wall with an airbrush and call it art. I can draw something on someone's arm and call it art. Anyone can call it art, but I think about quality and the actual image that you're creating, you know?"
What separates Davis' work from that of other tattoo artists and parlors is his work is meant to be personal and one of a kind. He gives free consultations to each of his customers to get a feel for what they are looking for in a tattoo or if they should get one at all. He then designs a tattoo based on what his customers say or how they envision the ink on themselves.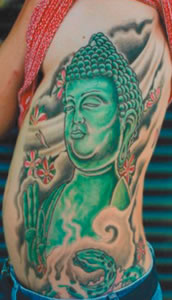 Davis says he can tattoo almost anything from Polynesian to Americana designs
His shop is open by appointment only, and none of his designs can be chosen off a wall or from a book of generic figures, shapes and characters. "I don't just look at a tattoo as a tattoo," he says. "It's just a fashion statement for some people. But for the people who are really into tattoos, it's actually part of their life."
His shop is located at 655 Keeaumoku St. For more information, call 951-7625.
THELOCALCANVAS
Haunted Plantation
Art and music group GoundUp will host its annual Haunted Plantation featuring horrific scenes acted out by professionals being chased and grabbed at by zombies and more, to make you glad Halloween only comes once a year.
The event at Hawaii's Plantation Village is said to be the scariest haunted house on the island and takes place Oct. 24 through 26 and on Halloween night.
It's so scary, in fact, that no children under 10, people with heart conditions or pregnant women will be allowed into the event.
"This is our third year in a row," says Noa Laporga, the group's organizer and founder. "Last year we had to shut the gates an hour or an hour and a half before closing time because we had 6,000 to 7,000 people within those two nights."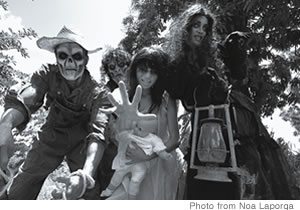 Actors and GroundUp members dress up to scare unlucky patrons of Haunted Plantation
Laporga says the group has hired many student-actors to not only chase people around the plantation with chainsaws, but also to act out spooky scenarios for viewers. "We're the only ones who do that in Hawaii," says Laporga, adding that other places usually use volunteers.
Many of the group's artists will be there applying makeup to the actors and scaring the wits out of people roaming the grounds. "It's pretty intense," says Laporga. "We're going for a more vintage theme, since we're on a plantation - obviously. Our (haunted house) is more performance and 'boo' scare performance, where a lot of other haunted houses are just 'boo.'"
Laporga also says the plantation doesn't even need him and his crew running around with chainsaws to scare people because the plantation is already haunted.
The plantation's management says there are eyewitness accounts of some odd shapes and figures roaming the grounds or accidents happening in the area at night.
"A lot of people didn't want to scare or flaked out on scaring last year because they didn't want to (be out) by themselves because they thought the place was haunted," explains Laporga.
Is this really art? Not really. But attending the event supports the GroundUp movement, which has regular events throughout the year supporting many charitable foundations and shining light on artists you might not see otherwise.
This is also a chance to give back to the plantation."A portion of the proceeds goes back into the plantation village to upkeep their stuff," says Laporga.
The gates open at 7 p.m. and close at 11:20, hopefully without you still in them, and the cost is $7.
For more information on the event, go to http://www.myspace.com/thehauntedplantation. For more information on the group, visit http://www.groundupmovement.com.
Most Recent Comment(s):