A Wild, Wet Day At Koko Marina

By
.(JavaScript must be enabled to view this email address)
Wednesday - January 04, 2012
|
Share
Del.icio.us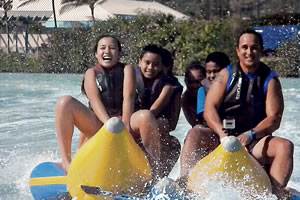 The author (right), family and friends on a wild ride. Photos from Wendy Darling / Hawaii Water Sports Center
For the past three years, my youngest son and I have spent many Sunday mornings sharing breakfast with my dad at Zippy's in Hawaii Kai. It is quality time that my father and I embrace.
And while we enjoy these precious moments together, we often find ourselves staring out the window at Koko Marina and giggling at guests enjoying themselves on a banana boat ride.
I can't tell you how many times Tai-John said, "Dad, I want to do that with my friends on my birthday."
This year my wife and I made it happen and left wondering why we waited so long. On Dec. 23, nine of us arrived at Hawaii Water Sports Center ready to fly. My old friend Cormac O'Carroll, the owner of the company, was there to warmly greet us. I first met Cormac back in the mid-1980s. My roommate from college, former University of Hawaii football standout Colin Scotts, was friends with rugby players from the Hawaii Harlequins. Cormac was a coach and player and one tough son of a gun.
Hawaii Water Sports Center offers parasailing, Jet Skiing, scuba diving, snorkeling, wakeboarding, water-skiing and surfing. We were there for the banana boat and bumper tube rides. I quickly got the feeling that Cormac's staff sensed my apprehension to climb aboard with my son and his wild sister, cousins and friends.
"You'll be fine," he laughed at me, then said to my son, "Have a great birthday, young man!"
Tai-John and his buddies went first, and my heart raced as I heard screams coming from the watercraft that was being towed by a speed boat. I knew the children were in good hands with Capt. Alberto Vazquez and photographer and sales and marketing director Wendy Darling. After a "clean" lap with no spills, the banana boat made a quick turn and crossed the wake left behind by the boat.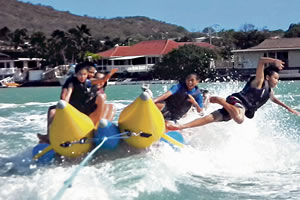 Staying aboard is a challenge, as these photos show
And then it happened: Three bodies were launched into the cool marina water. Their smiles were priceless as they surfaced and scrambled back onto the boat. Within seconds they were off and running again.
About 20 minutes later it was my turn.
"Don't worry, Dad, you will fall," chuckled TaiJohn.
Great! That's all I needed to hear. Vasquez gave us some safety tips and stressed, "Dad, if you're going to fall and you will let go. Safety is our top priority, but we like to see people fly."
He smiled and soon we were on our way.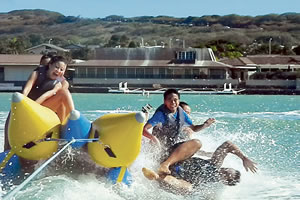 I survived the first lap and laughed as my daughter Haven and my nieces flew off their side of the boat.
My daughter asked me to switch sides, and within seconds I realized this was a very different ride. About a minute into the lap we hit a bump and I was gone! I hit the water pretty hard, but I could not stop laughing. My children, nieces and nephews struggled to pull me back on the banana boat.
As I settled back into my seat I heard the words that touched my heart. "Best birthday ever, Daddy!" yelled Tai-John.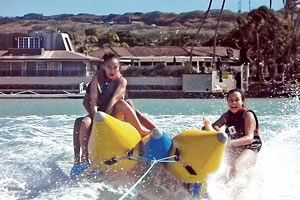 He would repeat those words a few more times on the bumper tube ride, which was an even bigger thrill.
By the time it was over (about two hours later), Wendy Darling had shot nearly 200 photographs along with several video clips, and Chris Lemoine had burned a copy of those photos for us to take home.
As we drove back to Kailua, my wife and I smiled as the children shared their most memorable moments. I got caught up in the storytelling when I started giggling to myself.
Someone in Zippy's was probably laughing as I went flying off the banana boat. Perhaps a son was even telling his dad, "Daddy, we need to do that one day."
I'm glad we finally did. For more information on Hawaii Water Sports Center go to hawaiiwatersportscenter.com.
Most Recent Comment(s):