Humpbacks Play In The Harbor

By
.(JavaScript must be enabled to view this email address)
Wednesday - January 18, 2012
|
Share
Del.icio.us
This whale actually bumped the dock. Chris Kojima photo
Capt. Willy Winn and his fishing crew were returning to Honolulu Harbor when several humpback whales came up alongside the Ocean Pearl. There's nothing odd about seeing humpbacks in the Pacific Ocean during the winter months, especially when you're 400 miles out to sea. But these whales weren't dropping by.
"They stayed with us for several days, and we were wondering if they'd follow us all the way back to the harbor," says Winn.
Turns out they did, at least two of them and possibly even six.
"About 7 this morning they came all the way into the harbor with us and stayed with us until I docked the boat up," says Winn. "Hopefully they can find their way out of here safely."
The U.S. Coast Guard received reports that four whales were spotted near piers 1 and 2, although those reports were never confirmed. Two other whales, possibly a mother and her yearling or two juveniles, would stay in the harbor for seven hours.
"We saw two of them breaching and swimming all around having fun and playing. It was an awesome sight," says fisherman Travis Ikeda.
Chris Kojima was fueling up the Manu o ke Kai when the whales approached the Young Brother's tug.
"They were so close to us I could touch them," says an excited Kojima. "I got blown mist on me all morning by whales. On the tugs we see them almost every day out in whale season, but I've never seen anything like that before just so close the bumps, the wiggle of the fat fin. It was unreal."
Kojima watched in awe as the whales played near their vessel for two hours. "Unfortunately one of them had like a pretty good gash on its back, I think maybe from hitting something in the harbor," said Kojima. "Didn't seem like they could figure out how to get out."
Didn't know how to get out or didn't want to.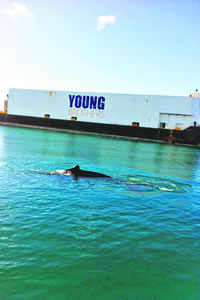 The whales seemed to be enjoying themselves. Chris Kojima photo
The Coast Guard and the state Department of Land and Natural Resources Division of Conservation and Resources Enforcement (DOCARE) maintained a 100-yard safety zone around the whales, which are protected by state and federal laws. Traffic in and out of the harbor continued with little delay.
"They do take shelter in the lees of the island just to get out of the wind and currents and everything else, so it wouldn't be uncommon to come in and rest inside of a harbor," says Eric Roberts, USCG Marine Mammal Response coordinator. "We just don't see it too oftne in these places where we have a lot of boat traffic."
"We are grateful for the coordinated efforts of DOCARE, the Coast Guard, Honolulu Harbor Marine Traffic Control and NOAA, who together ensured the safety of both the whales and boaters," says Elia Herman, state co-manager of the Hawaiian Islands Humpback Whale National Marine Sanctuary.
At one point, the whales moved deep inside the harbor near the Falls of Clyde. The curious who had ventured to Aloha Tower were treated to an opportunity to see nature up close. Shortly after 2 p.m. the whales followed the Navatek out of the harbor.
Nine hours later, another tug reported that three whales had followed it into the harbor but they weren't seen again. It's unknown if they were the same whales that had visited the harbor earlier in the day. With two incidents in less than a day, scientists are wondering if this rare event will happen again.
"We're waiting to see whether this is going to be a common occurrence," says Roberts. "I think the population estimates are that they're growing somewhere between 3 percent and 5 percent a year, so there are more whales in the waters. And with more whales, maybe we might start seeing this more often because they're looking for shelter."
And even in if they don't, few will ever forget the day the humpback whales literally came to town.
Humpback whale season continues through May. To report a marine mammal in trouble (injured, stranded or entangled whale, dolphin or seal), call the NOAA Marine Mammal Hotline: 1-888-256-9840 or the DLNR (DOCARE) statewide hotline: 643-DLNR (3567).
Most Recent Comment(s):