Manny's The Man In Paddling

By
.(JavaScript must be enabled to view this email address)
Wednesday - April 28, 2010
|
Share
Del.icio.us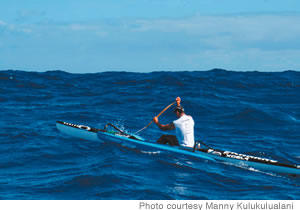 Manny Kulukulualani crosses the channel
If you've ever organized a family picnic or the office Christmas party, you know how challenging it can be. There's pre-planning, scheduling, follow-up phone calls and a ton of post-party responsibilities. Not to mention the actual event.
Yes, logistics can be a nightmare, but in the end it's usually worth it.
Try organizing a world-class event.
"Race organizing is very similar to coaching as far as time commitment and all the preparation that goes into an event," says Manny Kulukulualani, race director for the Steinlager Kaiwi Channel Solo OC1 World Championship. "That feeling is more rewarding than any race I've ever paddled in or won."
Kulukulualani is the founder of Paddling Athletes Association, an organization that plans canoe races throughout the year. This year PAA hosted the world's best one-man paddlers in their race across the Kaiwi Channel.
California's Danny Ching and Maui's Lauren Bartlett won the men's and women's titles with dominating performances. Ching became the first non-Hawaii paddler to win the race in a time of 3:38:51. It was the second-fastest time in the 18-year history of the race. Bartlett smashed her own record with a time of 4:13:43. It was her seventh women's title and fourth in a row.
Kulukulualani's calm nature is even more admirable when you learn that he's not just a race official, he's also an elite competitor who finished third in this year's event.
"I try to be happy with my finish, but like any persistent competitor I replay the mistakes I made in my head," says the veteran ocean man who somehow finds the time to train 10 hours a week in the ocean and another three hours of cross-training on land. "When you really want to bring up your game, you start to skip a lot of social events and you end up trying your best to do everything right to be as fast as possible."
It's hard not to focus on the quiet Kulukulualani. While other competitors were celebrating and sharing war stories with family and friends following the grueling 32-mile race, Kulukulualani was busy making sure the post-race festivities were in order. There were calls to make to the media and lunch to serve to those who spent hours out on the ocean.
"The people who help me put on my events are hands-down the best staff," says the grateful Kulukulualani. "I am trying to work on delegating some of the race duties, but I really like doing what I do."
And there's no time to rest. Kulukulualani is already planning his next two events. First, the Kaiwi Channel Relay on Sunday, May 2. The world's best paddlers team up in a relay race from Molokai to Magic Island on Oahu.
And then the big bash on May 23. The inaugural Pa'a E'ono Hoe. Men and women will race from Molokai to Oahu in six-man canoes with no relief paddlers. The "iron" format has been talked about for years and PAA is making it happen.
"I am really looking forward to these two events," says Kulukulualani, who will paddle in both. "Just like any competitive sport, paddling should be progressive, and I hope that creating this new race will help it to be that."
Yes, logistics can be a nightmare but in the end, it's all worth it.
"Honestly, I never see myself as giving back to the community," he says. "I feel that what I do is just me playing out my role and taking care of my kuleana in the sport. A lot of paddlers have good ideas for how we can improve our sport. I just have a hard time talking about a good idea if nothing is done about it."
Most Recent Comment(s):