Aligning Nerve Energy Flow
By Christopher Gregory
Interviewed by Melissa Moniz
Wednesday - April 07, 2010
E-mail this story | Print this page | Comments (0) | Archive

| RSS
|
Del.icio.us
Share

Christopher Gregory
Chiropractor
Where did you receive your schooling and training?
I went to high school here in Hawaii, Roosevelt, then graduated from Stanford University, Cornell University and the University of California, and earned degrees in physics (B.S., M.S., Ph.D.). Going from physics to chiropractic for me was a wonderful life change. Chiropractic being philosophy, science and art made the transition easy. However, it took a bunch of events to eventually lead me to my chiropractic training at the Cleveland Chiropractic College in Los Angeles. Then I studied my technique with Dr. Richard Van Rumpt in Santa Barbara. My brother Charles and I studied with him from the late '70s to 1988, when he passed away. He taught me almost everything I know about chiropractic adjusting.
Can you talk about the chiropractic technique you use?
Dr. Van Rumpt taught us a technique that's not commonly used in the chiropractic profession. It's called Directional Non-Force Technique. Some people call it the Van Rumpt Technique. It's different in that it's very soft, very effective and very accurate. We do a chiropractic test that does not require X-rays. This technique is in harmony with the chiropractic premise that structural mis-alignment can interfere with the flow of nerve energy. A chiropractic adjustment is geared to allow the nervous system to function without any interference. Our technique removes interference to nerve function, and when this is accomplished the body's natural capacity to heal is maximized.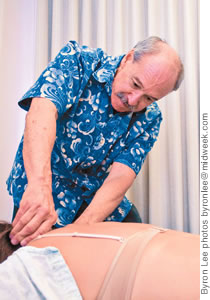 Christopher Gregory adjusts a patient
Can you explain the technique and perhaps what patients can expect when they come in?
We get the patient into an adjusting room, do an interview and take a case history. We try to find out what the patient's health problems and concerns are. And also why they are in our office so that we can properly address the problem. We then put the patient into an examination gown with the back open. I'll start the patient on the table by strapping on leg-measuring shoes. These are shoes with a heel on them, and the front of the shoe cut off because all we need is the heel. We do an analysis of your alignment using the leg measuring as a primary indicator. With the leg measuring, we are looking for one of the legs, called the reactive leg, to momentarily shorten after we've done our tests. If it does, it indicates that we have to make a correction there. Generally, regardless of what area the patient is having problems with, we'll go over the entire spine and correct what needs to be corrected. At the present time we feel that it's the most thorough way to give an adjustment. We do that same procedure each time a patient comes in, but hopefully we don't have to do the same adjustment because after giving an adjustment, the same adjustment should not have to be given.
So you don't see patients regularly?
No, no, no. With this technique we've got the potential to clear someone out in one adjustment. If it's a serious case with serious symptoms, like someone who's had a whiplash, we'll do follow-up visits until the patient is stable. As far as patient visits go, we attempt to teach people to listen to their bodies so that they know when they need to come in. We don't have a maintenance schedule that we put people on or anything like that. Our goal is to adjust one time. The way we were taught, it's better to adjust 100 people one time each and have them in perfect alignment than to adjust one person 100 times. It's really a results-oriented practice.
What are the most common complaints patients come in with?
We see all kinds. We see a lot of sports injuries, such as overuse injuries. We also see a lot of low-back pain and neck pain. I have guys coming in with pain they've been dealing with for years that has not gone away. These are the kinds of things that chiropractors deal with.
We chiropractors have some of the hardest cases because we get many people that the medical guys couldn't fix. So we're up against the harder category of patient - the incurables, so to speak.
How long have you been practicing?
My brother and I have been practicing in this building for 30 years. It sounds like a long time, but it has gone by quickly.
How has your practice evolved since you first started?
I used to be able to do an adjustment in, at most, 20 minutes, and so I could do like 20 people a day. Then I either started getting more thorough or started slowing down - I hope it's a little of both. Now it just takes a lot more time. So now I don't even wear a watch. I just go into the adjusting room and take as much time as I need. So I try to allow as much time for each adjustment as needed.
Most Recent Comment(s):