Rehab: Recreational Therapy
By Catherine Church
Interviewed by Rasa Fournier
Wednesday - November 30, 2011
E-mail this story | Print this page | Comments (0) | Archive

| RSS
|
Del.icio.us
Share

Catherine Church, CTRS
Certified therapeutic recreation specialist at Rehabilitation Hospital of the Pacific
Where did you receive your schooling and training?
I got my Bachelor of Science degree at the University of North Carolina at Wilmington in 2002 in recreational therapy and a minor in psychology. I have national CTRS credentials.
How long have you been practicing?
I moved to Hawaii seven years ago and have been working full time at Rehab Hospital of the Pacific since September 2005. I am now the senior recreational therapist.
What is recreational therapy?
Recreational therapy is based on a holistic framework, which focuses on all aspects of improving an individual's health and function. It utilizes various activities as a form of active treatment to improve physical, cognitive, social and emotional functioning, to enhance current skills of daily living, establish new skills, increase independence and establish skills for community functioning.
The Recreation Therapy Department at Rehabilitation Hospital of the Pacific uses treatment, education and recreational services to help people with injuries, disabilities and other conditions. We do this by offering them leisure activities that will enhance their health, independence and wellbeing.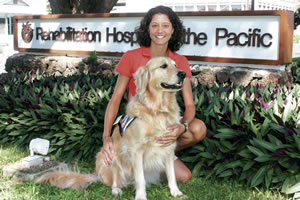 Catherine Church with therapy dog Simba. Photo from Rehabilitation Hospital of the Pacific
What kind of activities are involved?
On a typical day at REHAB, I do a leisure interest inventory where I evaluate and assess patients with spinal cord injuries, stroke survivors, amputees and those with traumatic brain injuries. I set goals, write treatment plans and evaluate their progress.
One-on-one activities include things that increase the patient's perceptual skills like jigsaw puzzles, tabletop board games and bingo. Activities to help with planning, organizing and developing strategy skills include gardening, community outings, writing out daily activity schedules, and food preparation, which includes planning, shopping and cooking. For memory, attention span, sequencing and problem-solving, we have computer games, arts and crafts and card games. We also do social activities like our weekly and monthly support groups, group recreational games, DVD movie nights, Bingo and group exercise.
We do so many recreational things with the patients. We have pet visitations with our therapy dog Simba. I use Simba daily in my therapy sessions to have a compassionate, friendly being to interact with patients. Having Simba present helps increase a patient's speech, increase tolerance for standing or walking, helps with sequencing techniques (brushing the dog) or just for tactical stimulation (soft fur, cold nose, wet tongue).
We also try to encourage our patients who are learning to physically and emotionally cope with their disabilities by giving them a creative outlet. I assist patients in our Louis Vuitton Creative Arts Program, where they have a chance to experiment with a variety of art media.
Our inpatients also enjoy manicures and haircuts. It's a way to increase their self-esteem, self-confidence and motivation to participate in activities to promote socialization.
Recreational therapy isn't just "fun" activities. It uses various leisurely seeming activities and programs to help patients with their rehabilitation. Another part of the program is our weekly and monthly support groups that I facilitate for stroke and spinal cordinjury survivors, both for inpatients and outpatients.
I also act as a community liaison via phone calls and email with community organizations and programs, former patients transitioned into the community, visitors to the islands, and family members of survivors, with whom I share resource information regarding accessible programs, support groups, and contact names and phone numbers. I also conduct facility tours of REHAB Hospital and participate in community presentations.
One thing I do monthly as a recreational therapist is to participate in the adaptive sports program with AccesSurf Hawaii, which provides opportunities for adaptive surfing and therapeutic instruction for swimming and floating.
What are some of the benefit of recreational therapy?
It improves physical abilities, builds self-confidence, self-esteem and motivation, promotes greater selfreliance, develops and enhances leisure skills, manages stress and in general supports people with disabilities. Patients learn about accessible outlets for leisure activities in the community, and these are activities which increase their strength and endurance, interpersonal skills, communication skills and individual living skills. Our programs build family unity, quality of life, improvement of fine and gross motor skills, and they contribute to overall health and well being.
I tell my patients, "Learn, build, use to get more out of life!" Learn: useful skills. Build: greater selfsufficiency. Use: leisure well. Recreational therapy helps people to help themselves, so they can enjoy life more every day.
Most Recent Comment(s):