Soothing Trip To The Dentist
By Dr. Wynn Okuda
Interviewed by Rasa Fournier
Wednesday - December 07, 2011
E-mail this story | Print this page | Comments (0) | Archive

| RSS
|
Del.icio.us
Share

Dr. Wynn Okuda
Cosmetic dentist and owner of Dental Day Spa of Hawaii
Where did you receive your schooling and training?
I went to McKinley High School, the University of Hawaii and then got early admission into dental school at Oregon Health Sciences University. I have been tunnel-visioned into dentistry. And the reason is because I had such a bad experience being a dental patient as a child. There was an epiphany around seventh grade when I said there must be a better way. So I began my journey by volunteering seven years at St. Francis Hospital Dental Center.
How long have you been practicing?
For 24 years. I enjoy doing what I do, and when you enjoy what you do, you feel invigorated and happy to be there. I've always wanted to be in this field and to help people with their anxiety, so I opened my Dental Day Spa. How do you counteract fear? With something that is pleasurable. We do a lot of massage therapy here to release the body's biochemistry to help create a better mood and experience. My goal is to find a different way of looking at doing this so that we can help people rather than have them live with this tremendous fear and anxiety of dentistry throughout their lives. I was really proud to be able to open this facility - that was more than 10 years ago now. I'm grateful that it's been a huge success.
You were recently one of six people chosen out of 156,000 American Dental Association members to do a live dental operation during the ADA's convention in Las Vegas.
The American Dental Association annually has a meeting with between 35,000 to 45,000 attendees. It's the largest of the dental meetings we have in the world. The ADA developed this concept called Education in the Round, which costs more than $1 million to develop. It's interactive, so attendees are asking questions, and you're answering as you're working. It's different than being in your dental office and just doing work. There are six cameras on you at all times. So you can't even scratch your nose without someone seeing you. But the interactiveness is what makes it really interesting because you never know what's going to happen.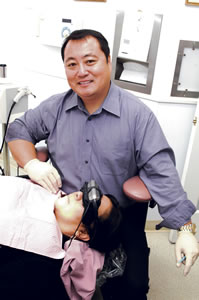 A patient enjoys a virtual movie while having her teeth worked on by Dr. Wynn Okuda
The cameras stream the event live?
Yes, it's broadcast to all ADA members throughout the world as well as to all American and Canadian dental schools, so it was really a lot of pressure. The work turned out pretty darned well and, most importantly, we were able to represent Hawaii in the best way possible.
What kind of surgery were you demonstrating?
They asked me to do a smile makeover. To do that in that compressed period of time is virtually impossible. I had to retool the way I do things in order to meet that timeframe. I always love a good challenge, and I was able to do it. I did a smile makeover using new technology and lasers for gum resculpting as well as this really cool reversal anesthesia. We're able to reverse the anesthesia now using this medicament that we inject into the site so that 20 minutes later the Novocain wears off. One of the worst things about going to the dentist is having to leave the office and be numb for the next four hours. The new medication helps release the anesthesia from the site faster and let it get metabolized through your body quicker. Although it's not for every dental situation, it's great when you can use it.
I was very fortunate and honored to be selected to do this and to represent Hawaii. In those livepatient procedures there are different components and areas of dentistry that are being showcased. They select different practitioners based on their expertise.
Can you go into a little bit more detail about the operation?
My patient is a student and a hula dancer from Kauai. She had old composite restorations on her teeth. She naturally had a lot of spaces between her teeth. In order to create a more normal-appearing smile, her dentist put composite bonding on to fill in the gaps more than 10 years ago. But the contours of the teeth looked a little odd. One tooth looked too wide, another looked too narrow. I wanted to resculpt her smile by creating more normal contours. In using composite resin veneers we're able to, with minimal invasiveness, correct her problem without having to do much preparation to her teeth. Composite resin is made of ceramic particles and plastic, which makes it hard and durable. With the latest materials we have from Japan, the product also gives me a nice polish and finish. I was able to resculpt her smile in two and a half hours, giving her a whole new beautiful smile.
Anything else you'd like the public to know?
One thing that's really exciting is right next door to my practice we're expanding the whole concept of the Dental Day Spa and helping to reduce anxiety for patients who need to see a dentist specialist. I do cosmetic dentistry, but there are other procedures that are done by specialists that can be kind of scary, like root canal therapy and gum surgery. People get really nervous when you have to see someone who's not your regular dentist. We decided to all-inclusively open this branch that will have all of the dental specialists there. You'll no longer have to quarterback your own treatment and know how to explain what the problem is you'll have specialists who are able to work together to help you. We're looking to open within the next couple of weeks.
Most Recent Comment(s):