Treating Varicose Veins
By Dr. Danelo Canete, Mark Simmons, Dr. Neal Shikuma
Interviewed by Rasa Fournier
Wednesday - January 04, 2012
E-mail this story | Print this page | Comments (0) | Archive

| RSS
|
Del.icio.us
Share

Dr. Danelo Canete, Mark Simmons, Dr. Neal Shikuma
Where did you receive your schooling and training?
Shikuma: I went to Stanford University and then the University of Hawaii School of Medicine for my M.D. I have a postgraduate degree in internal medicine and a cardiology fellowship, both from the University of Southern California, and I'm board certified in internal medicine and cardiovascular disease. I've been practicing for 28 years.
Canete: I'm a foreign medical graduate from the Philippines, the University of Santo Tomas. I did my internal medicine residency at Albert Einstein College in New York and a cardiology fellowship at St. Michael Hospital in New Jersey. I have been practicing in Hawaii since 1970.
Simmons: I got my B.S. from William Carey University in Hattiesburg, Miss., and I went to the Echo/Vascular Ultrasound Institute in Mobile, Ala., in 2003. I received most of my varicose vein training at Cascade Vascular Group in Seattle.
How does a vein become varicose?
Shikuma: A normal, competent vein has a one-way valve that pushes the blood up to the heart. But as we get older, those one-way valves start to not completely close so that column of blood that kept going up kind of washes back down again. After a while of washing back down it has to have somewhere to go, so some side veins start to develop and you see varicose veins start to pop up.
Simmons: There's little valves in that vein, and when you're pregnant or if it's hereditary or you're overweight and that vein gets bigger, then the valves can't touch anymore, and it starts leaking and causing varicose veins.
Shikuma: Venous congestion manifests as swelling, pain, heaviness, cramping. These symptoms will last 24 hours a day. Some people can't sleep because their legs hurt so much. The circulation will continue to deteriorate. Skin changes become manifest -ultimately the skin starts to break down and you develop ulcers. These are itchy, they hurt, you cramp. It's not just symptoms, it's literally a venous disease that develops from lack of circulation.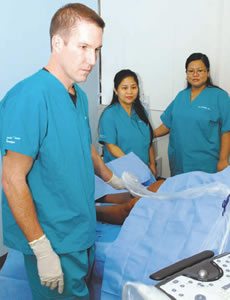 Registered vascular technologist Mark Simmons and medical assistants Kareen Ibbay and Brena Pagarigan use an ultrasound to find a patient's vein to be ablated. Nathalie Walker photo

.(JavaScript must be enabled to view this email address)
One of the biggest factors is age. Everybody is living longer, everybody is working longer because they can and because they have to. Other major risk factors are gender (female), pregnancy, jobs that require a lot of standing, being overweight, prior injury or surgery and heredity. If Mom had it, it's very likely you'll have it. Being active is a very big deal. If you stay active, you keep those muscles pumping.
What happens if they're not treated?
Simmons: The vein grows a little each year.
Shikuma: If left untreated, they get infected. Ultimately you cannot only lose your limb, you can lose your life if you get a serious systemic infection.
What is the latest in varicose vein treatment?
Shikuma: For more than a year now we've been using a method based on radio frequency it's a heat-based ablation and it's covered by insurance. The old vein-stripping operation was very disfiguring and debilitating. There was actually an incision made in the leg and you take a vein out. With the new technology, we make a puncture and introduce a catheter that internally ablates (destroys) the vein it collapses after we heat it with the radio frequency. It's like applying a microwave from the inside, and the vein collapses around the catheter, and then we withdraw the catheter. As soon as you cut off supply to the vein, all the varicosities that are farther down disappear and dry up. The varicose veins collapse and disappear. Within 48 hours with the first woman we did, she came in three days later and her husband said that was the first time in years his wife slept through the night because her legs didn't bother her. It's a dramatic response.
Canete: I've been putting stents and angioplasty for 30 years, I've never gotten a hug for it. But I started doing varicose veins a year ago and I get hugs. It's not because the varicose veins have gone away, but because they feel so much better. It's not just in females. I have a patient who's a prison inmate, stoic guy, and we did both legs. They thought he was faking it so he didn't have to join the work party. Four days later he said he walked one mile. Two weeks later he said he walked six miles and then he joined the work party. The procedure takes 15 minutes. You walk in here and walk out and can go back to work the next day.
Are there enough other veins that do the function of that ablated vein?
Shikuma: Yes, there are so many other veins and we're only taking away one. With time, the skin changes start to improve. The ulcers start to heal and go away.
Simmons: There are five different types of veins in your legs. Deep veins are the ones that do all the work. The vein we ablate is a superficial vein. Superficial veins are close to your skin. The vein is long, it runs from your groin to your ankle. Even if that vein is healthy, it takes less than 10 percent of the blood back up. When we ablate or clot that vein to stop it from leaking, it's not taking blood back up like it's supposed to, so it's not doing the body any good.
Is there pain, swelling or other symptoms from the procedure?
Shikuma: You can feel the needle pokes, but that's it.
How common are varicose veins?
Shikuma: There are easily 25 million Americans with varicose veins and fewer than 2 million seek treatment. They'll come in complaining, not about varicose veins, but my leg is heavy, something is wrong. It hurts all the time.
Simmons: Or they'll say they have restless leg.
Shikuma: They come in with not-so-specific symptoms and we'll do a confirmatory study, which is a simple ultrasound.
Canete: We offer free screenings (330-3025).
Most Recent Comment(s):