Going To Macy's For Lunch

By
.(JavaScript must be enabled to view this email address)
Friday - November 04, 2005
|
Del.icio.us
|

Podcast
|
WineAndDineHawaii.com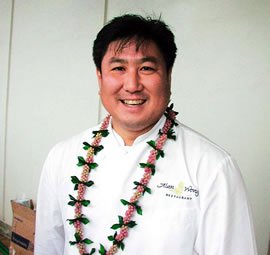 Alan Wong's The Pineapple Room is a
fun place to eat with its open kitchen
and great dining
Sometimes you have to stay away from a restaurant for a while to really appreciate how great it is. That's what happened to me with The Pineapple Room, Alan Wong's excellent restaurant located on the third floor at Macy's in Ala Moana Center. I hadn't been there in a while, but went for lunch last week and was bowled over once again by not just the flavors and presentation of the dishes, but by the unfailing creativity the Wong team always exhibits.
First, The Pineapple Room is a fun place to meet. An open kitchen and attractive bar afford a great view of what's happening behind the scenes. But unlike most open kitchen restaurants, the noise from the kitchen doesn't affect the dining experience. I know some of you just hate watching what's going on in the kitchen - as someone wrote to me recently, "if I wanted to see the mess in the kitchen I might as well just stay home!" - but this open concept really works. It's nonintrusive and interesting.
The service is first-rate, the wait staff is pleasant and well-versed in Wong's and sous chef Neil Nakasone's excellent cuisine. But it's the menu that really makes this a fun place for lunch, and it's the food that shines amidst all the beautiful lighting and color. Wong has always been able to take well-loved and highly recognizable dishes and put a spin on them, and nowhere is this talent more apparent than at The Pineapple Room.
I started lunch with the Poi Cup ($5.75), a bowl of fresh Hanalei poi topped with warm Kalua pig and lomi tomatoes. The dish is surprisingly light, beautifully colored (poi really does add another color element to a plate that only Molokai sweet potatoes can better), and the blending of flavors as you delve deeper into the poi makes it a small adventure in eating. It's delightful enough to convince even the most cynical of diners that poi has a place on any menu in Hawaii. Continuing his love of taking everyday dishes and elevating them, Wong's Pineapple Room Burger ($10) is a wonderfully moist and tasty offering featuring North Shore Cattle Company Kiawe beef in a burger with onion rings, bacon, Cheddar cheese and avocado salsa. The Loco Moco ($13.50) isn't what you'd expect to find at any mom and pop cafe, but the elements that have made it one of the most popular lunch plates in Hawaii are all there. A grilled hamburger patty is served over perfectly put together fried rice, and topped with two eggs of any style. The gravy? Well, it's made from veal stock and adds all the depth and flavor a loco moco could wish for.
Local dishes have become favorites for good reason, and at The Pineapple Room they give more than a passing nod to the fact that these dishes are part of the gastronomic culture of Hawaii. The menu changes often, there are the expected daily specials, and dinner items offer some wonderful dishes (Kiawe Grilled Ahi Steak, Sweet Chili Glazed Ehu, Grilled New York Steak "Wafu style") that are not on the menu at Alan Wong's King Street location. Breakfast is served on weekends, and special events such as the regular Winez and Grindz dinners are well worth the price of admission.
Next time you're shopping at Ala Moana, take a long detour through Macy's for lunch.
Most Recent Comment(s):