John Horak

Wednesday - October 01, 2008
By
.(JavaScript must be enabled to view this email address)
|
Share
Del.icio.us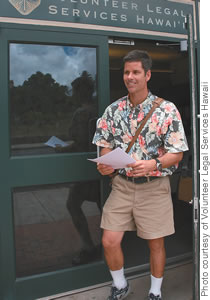 We've all heard the jokes about lawyers (insert groan here). But if you happened to be at the Pacific Club during the recent Kahiau Awards luncheon, you'd find the joke's on you. A wide collection of volunteers from law firms across the state were honored by Volunteer Legal Services Hawaii (VLSH) for giving hundreds of hours of their time and service to the nonprofit during 2007. One such lawyer who donated more than 200 hours to VLSH was John Horak.
"Many lawyers give 10, 15, 20 and a few may make it up to 50 hours. But it is a rare animal that gives more than 200 hours," says Moya Gray, executive director of VLSH. "He's always available when a client needs to speak with a lawyer immediately. He really, truly gives, not just to the clients but to the community and the organization as a whole."
Horak was awarded the Spirit of Kahiau Award, which Gray says symbolizes "selfless giving without expectation of return." Also noted for donating more than 100 hours of service last year were Ellen Politano, Mark Sklov and Bobby Bautista. Recognized as the Top Law Firm for 2007 was Stirling Kleintop.
Horak began working with VLSH in 2002. He says he learned of the organization while teaching business ethics and law courses at Wayland Baptist Academy in Aiea. As the bar examination requires 50 hours of pro bono representation for low-income clients, Horak decided to put his money where his mouth was.
"In teaching a business ethics class, you go through the process of presenting how a company presents itself in the community. Telling the students how important volunteerism is, you gotta walk the walk," Horak recalls. "That was a good learning experience for me ... To explain the concept to students, I had to formalize it as a concept for myself."
The former St. Anthony's and Kalaheo student additionally puts time into neighborhood legal clinics, which entails going to different areas around the island to spend half an hour one-on-one with people to discuss general and family law, and homeless shelter workshops, where volunteers go to Next Step and work alongside shelter residents to help them understand consumer credit issues, landlord-tenant consumer rights, family guardianship and tax credits available to low-income clientele.
To top it off, the former military man also volunteers at the Coast Guard Auxiliary, a spin-off of the Coast Guard that does pollution prevention, boating safety, etc.
For ways to get involved with VLSH, contact Emma Gardner at 522-0676, or visit www.vlsh.org.
Most Recent Comment(s):