Four Business Leaders Win Sony Pro-Am

By
.(JavaScript must be enabled to view this email address)
January 25, 2012
|
Share
Del.icio.us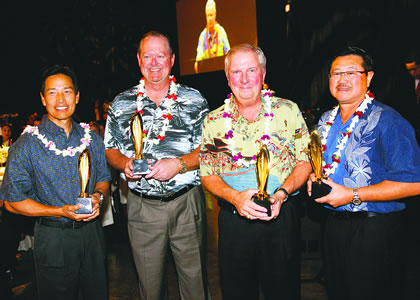 Four Business Leaders Win Sony Pro-Am
Teammates (from left) Michael Wo, owner/executive of C.S. Wo & Sons; Dennis Francis, president and publisher of the Honolulu Star-Advertiser; Tom Griffin, president of Honolulu Ford, and John Uekawa, president and general manager of New City Nissan, received trophies for winning the Sony Open ProAm earlier this month. The four amateurs were paired with PGA Tour pro and 2002 Sony Open champion Jerry Kelly. Their team shot 17 under par. Photo by Marco Garcia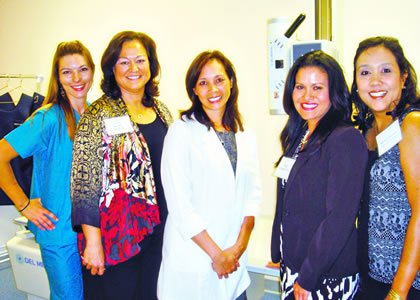 Newest Face In Urgent Care
Last week Pearl City Urgent Care (PCUC) opened its medical care services, following the announcement of Hawaii Medical Center's closure. PCUC is staffed by emergency physicians and nurse practitioners, and is welcoming area patients to mitigate and prevent overcrowding of other emergency rooms and physicians' offices. Pictured from left are Andy Canada, Donna Schmidt, Dr. Melanie Kelly, state Rep. Kymberly Pine and Melissa Bojorquez Michell.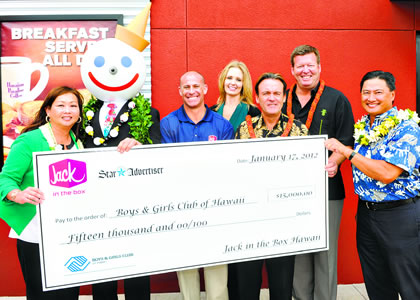 BGCH Can Count On Jack
Jack in the Box donated $15,000 to Boys & Girls Club of Hawaii. The donation, partly funded by the sale of Honolulu Star-Advertiser newspapers at local Jack in the Box restaurants, supports the Youth of the Year Luncheon and BGCH teen programs. On Jan. 17, representatives from Jack in the Box Hawaii and the Honolulu Star-Advertiser were at the new Jack in the Box restaurant in Waianae to present the check. Even Jack, the chain's popular founder and spokesman, was on hand to say a few words.
A Spot in HOT SHOTS
MidWeek's
Hot Shots wants to recognize and salute accomplishments by Honolulu's outstanding individuals and groups.
Hot Shots photos feature a wide variety of people and events - an award winner, a scholarship winner, new officers of a civic club, a couple celebrating a significant anniversary with their family, a team championship, a groundbreaking, unveiling of a new work of art, dedication of a new building, a civic honor.
Please send your photos and announcements by mail to
MidWeek Hot Shots
500 Ala Moana Blvd., Suite 7-500 , Honolulu, HI 96813, or by e-mail to
dchapman@midweek.com
Most Recent Comment(s):