Kahala Nui Lends A Bag

By
.(JavaScript must be enabled to view this email address)
January 11, 2012
|
Share
Del.icio.us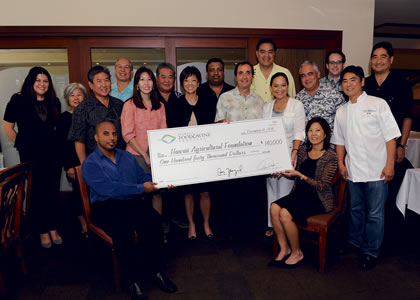 Giving Back Through The Kitchen
The first Hawai'i Food & Wine Festival was held Sept. 29 to Oct. 1, 2011, in Honolulu. The festival raised more than $250,000 for local nonprofit organizations. Pictured (from left) are Molly Watanabe, Lynne O'Neill, Chef Alan Wong, V Calamur, Neil Hannahs, Jeanine Ogawa, Dean Okimoto, Meredith Ching, Chef Vikram Garg, Maurice Constantine, Mufi Hannemann, Cha Thompson, Liane Sunn, Mike McCartney, Avi Mannis, Chef Roy Yamaguchi and Warren Shon.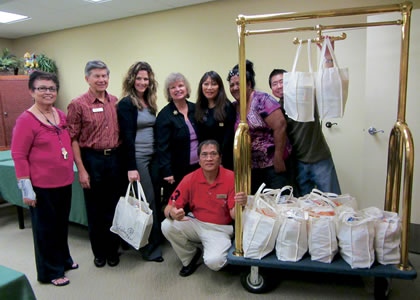 Kahala Nui Lends A Bag
As part of its ongoing commitment to senior citizens, Kahala Nui recently donated $7,000 worth of bags filled with food and toiletry items needed by seniors of Palama Settlement. Kahala Nui associates from all departments assembled to fill and pack each recyclable bag by hand. Pictured (from left) are Lea Ramelb, Patrick Duarte, Stacey Schiller, Jean Evans, Darlene Canto, Lani Davis, Preston Terada and (kneeling) Ninoy Llamas.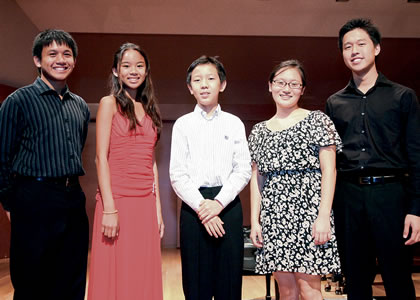 A Note Above The Rest
(from left) Andrew Ramos (piano), Noe Baladad (piano), Minhoo Suh (strings), Ayami Hatanaka (strings) and Evan Lin (piano), are state winners of the Music Teachers National Association Music Competitions. Each student placed first in the recent state competition and went on to compete in the Southwest Competitions Jan. 7 and 8 in Las Vegas.
A Spot in HOT SHOTS
MidWeek's
Hot Shots wants to recognize and salute accomplishments by Honolulu's outstanding individuals and groups.
Hot Shots photos feature a wide variety of people and events - an award winner, a scholarship winner, new officers of a civic club, a couple celebrating a significant anniversary with their family, a team championship, a groundbreaking, unveiling of a new work of art, dedication of a new building, a civic honor.
Please send your photos and announcements by mail to
MidWeek Hot Shots
500 Ala Moana Blvd., Suite 7-500 , Honolulu, HI 96813, or by e-mail to
dchapman@midweek.com
Most Recent Comment(s):