Wednesday - March 22, 2006

Movies Showtimes
Share

The Libertine
Movie Review with Dave Hisaka
KITV and radio traffic reporter and former DJ
As Told To Rasa Fournier
Where and with whom did you see the movie?
I went with my friend Cat. We went to Dole Cannery.
Overall did you like the movie, and why?
No, it was pretty bad. It's not my type of movie. Usually I need some kind of action. It was kind of an artsy fartsy-type of movie. It was two hours of boredom.
What about the movie was "artsy"?
The time period - I wasn't really into that.
What was the basic storyline?
Johnny Depp's trying to put together a play. Basically his life is kind of up and then it all kinda crashes down. It shows his downfall. It's all set in the 17th century London period.
Did you have any favorite scene(s)?
Not really. It was all pretty much like a long, bad hangover, one long, bad scene.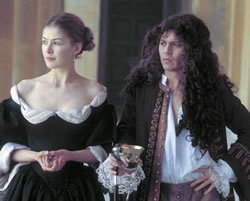 Did you have a favorite character?
I guess Johnny Depp. He's the only one I remember. It was kind of bad. Girls might enjoy it. Maybe if Britney Spears was in the role of Johnny Depp it would have been better.
How would you rate the acting?
I think it was fine. Out of 1 to 10, I'd give it a 5. Nothing too bad.
What were the best/worst aspects of the movie? Why?
I didn't see anything good. Some people might like it. It just wasn't my type of movie.The worst aspect was the storyline.
I didn't know what it was about. It's really arty. I think you have to be intelligent to watch it.
Was there a particular message it tried to get across?
Just a story about the life of the main character.
To whom would you recommend this film?
Any girls that aren't gonna make a guy go with him. And you have to be a Johnny Depp fan.
In a four star rating, with four being the highest, what would you and your friend rate this film?
cuz at least they made a movie, I guess.
What is your favorite movie?
I like stupid movies like Dumb and Dumber. I like comedies.
What genre of movies do you like?
Comedy or action. I liked Blade and I like horror movies too. I liked the Ring series or The Grudge. It's really up and down with me, but I'm not too much into the art type of movies.
Do you have a favorite actor/actress?
Not really, just whatever's there I go and see it.
Who is your favorite movie buddy?
My friend Cat.
What's your favorite movie snack?
It's gotta be popcorn, but it's kind of expensive now.
How often do you go to the movies?
Maybe once a week. My friend and I, we usually try to go see a movie together.We've done that for a while.
What's new with you?
Not much. I'm a KITV traffic reporter and I do reports for the radio as well. We started doing traffic reports 18 hours a day, so I'm trying to get all of that together. I'm kind of working a lot, but it's the same old boring traffic stuff and with the rain, it makes it more complicated.
What radio station do you work for?
It's the Visionary group, so it's KQMQ, KPOI, Da Bomb and KUMU.
Anything else you want to say about the movie?
It's bad enough that I had to watch it. I think I've bad mouthed it enough.
Next week: a new movie, a new celebrity
Most Recent Comment(s):