Not Quite All In The Hogue Family

By
.(JavaScript must be enabled to view this email address)
Wednesday - March 21, 2007
|
Share
Del.icio.us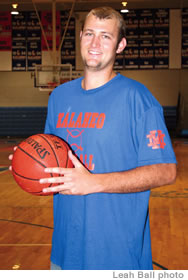 Coach Ryan Hogue: no relation to the
column writer
There's another Hogue in the high school basketball coaching ranks this spring. He's probably the tallest coach in the Islands. And he hails from Kailua.
Sound familiar?
But contrary to popular perception, Ryan Hogue is not my son. Neither is he Becky Hogue's brother.
"I get that all the time - I mean all the time," Ryan says, laughing. "Everybody comes up to me and says 'I heard your dad on the radio.' Or 'How's your dad; how's your sister?' It's a complete assumption."
Actually, Ryan is the proud son of Greg and Chrystal Hogue of Enchanted Lake. His sister is Ashley, a former Kalaheo High School cheerleader.
Ryan, now 25, is the new varsity girls basketball coach at Kalaheo, where he starred for the Mustang boys basketball teams in the late 1990s.
"I know I still have a lot to learn," he says about his relative youth as a head coach. "But I'm also not that removed from my playing days. That means I know what it's like to be a player. I know what it's like to get yelled at. I know what it's like to be frustrated. Because of that, I think I can help these kids."
He certainly had great teachers himself.
Under the tutelage of the legendary Pete Smith, Ryan grew from a lanky forward to a dominant all-state player while at Kalaheo. He became a force for a Mustang team that won four consecutive OIA titles and finished as state runner-up his senior year.
"Everything I know about basketball I learned from (Coach Smith)," Ryan says. "He meant everything to me. I hope I can keep up his tradition."
After high school, Ryan accepted a basketball scholarship to UH-Hilo, where he was a four-year starter and honorable mention all-Pac West for the Vulcans. His solid play earned him a spot in the record books as second all-time in games played at the university.
After graduating from Hilo with a double degree in communications and education, Ryan came home to teach at Kalaheo. He currently teaches special motivation to high-risk kids. He was also the boys basketball junior varsity coach the past couple of years.
"We won the (OIA) JV championship this year," he says, proudly. "It was a really great feeling with a lot of really talented kids."
Now, Ryan is hoping to work his basketball magic with the Mustang girls.
"It's quite a challenge," he says. "We have nine freshmen and sophomores on our team. We're very young."
Ryan and his young Mustangs took their lumps in the OIA opener last week, losing by double digits to Roosevelt. But he believes there's plenty of time to turn things around.
"I think the (OIA) race is wide open," he says. "No one looks like they'll walk away with it. Kalani, Roosevelt, Farrington, us, we'll all be up there."
One thing's for certain. Ryan Hogue will be there, too, every step of the way. He has a passionate love for the game.
And that should come as no surprise. After all, he's a Hogue.
Most Recent Comment(s):