OC-16 Sports' Global Audience

By
.(JavaScript must be enabled to view this email address)
Wednesday - December 17, 2008
|
Share
Del.icio.us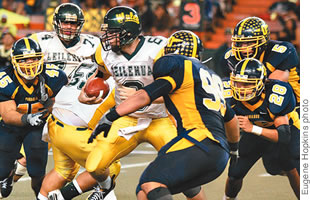 Leilehua quarterback Andrew Manley is sacked by Punahou in the state championship game Dec. 5
As OC-16 celebrates its 20th year of broadcasting this year, no one could be happier than the Oceanic Time Warner Cable station's vice president of programming, Mitzi Lehano.
"I've been with the company for 28 years and we started broadcasting 20 years ago, actually on Channel 12," she recalls. "The most gratifying part of the job is keeping families connected."
For years, OC-16 has been a leader in local sports coverage. Keeping families connected has meant providing quality broadcasts of local high school and college sports, including the OIA, ILH, HHSAA, PacWest and occasionally some University of Hawaii games. OC-16's live broadcasts of Friday night OIA football contests has been a local fan favorite for the past two decades.
Now, and for the past two years, more fans have been tuning in. A great deal of that connection has come through live web-streaming where fans, family and friends can watch OC-16 broadcasts over the Internet.
"We hear from all over the world," Lehano says proudly. "We get up to 3 million hits a month."
Recently, a soldier serving in Iraq, Futu Iaulualo of Wahiawa, sent an e-mail to OC-16 thanking it for its coverage. "From Baghdad, Iraq," the e-mail said, "I was watching the Kahuku/Leilehua game and heard my son's message. I like to say "THANK YOU. I LOVE OC-16."
The capital letters are just as they appeared in the e-mail. That's how excited this soldier dad was to see his son play halfway around the world.
"It turns out there were three cousins on the Leilehua team - Bradley Iaulualo, Alii Tuitoelau and Sione Simi - all with fathers deployed to Iraq, who were able to watch their sons play via webstreaming," says Dave Vinton, director of OC-16 sports. "When I heard their story, I just thought, wow, we did something good!"
Vinton says the company has received similar e-mail messages from military personnel stationed in Afghanistan, Germany and Japan, among other far-flung places where U.S. forces serve. "It's like spanning the globe," he says, borrowing a phrase made popular years ago by ABC's Wide World of Sports.
"Being from Mililani, we see so many military families because of our proximity to (military bases) and we want to do our part to support them. They're so important to us," Lehano says. "Right now, the military is up to No. 3 in our share of the market. That's amazing."
It turns out that the web-streaming also is reaching out to others besides the military and other former Hawaii residents overseas.
"We heard from these people in Germany, and you could tell they were German nationals by the way they wrote (stylistically) in their e-mail," Vinton says. "They said they tuned in to an HPU basketball game and got excited about it, and have now become big fans of all our broadcasts. Imagine that - halfway around the world there are people watching us who have become Hawaii sports fans."
Vinton says football is its most-watched sport.
"It's definitely the king sport worldwide," he says, but OC-16 has made sure that other sports are covered, including volleyball, basketball, soccer, softball, baseball and many others. When OC-16 broadcasts high school championships, the hits on its web-site (http://www.oc16.tv) just explodes.
Most Recent Comment(s):