On The Run With Kama Bailey

By
.(JavaScript must be enabled to view this email address)
Wednesday - September 12, 2007
|
Share
Del.icio.us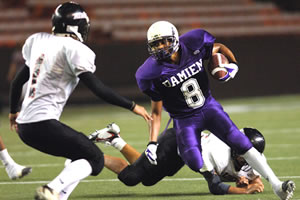 Run, Kama, run: Damien's Bailey makes another tackler miss
Running to daylight is nothing new for Damien's Kama Bailey.
"He just loves to run," says the Monarch's head coach Brian Derby. "After he runs for a touchdown, he just keeps on running right back to the huddle, ready to do it all over again."
So far this high school football season, that's been happening quite a lot. Bailey already has a 93-yard touch-down scamper against Farrington and a 63-yarder against Radford. In the win over Radford, Bailey scored three touchdowns and accounted for a whopping 295 yards on just 15 carries.
That's nearly 20 yards a carry! And it could have been more.
"He had two long runs called back," Derby says. "Otherwise, he would have had over 400 yards."
"It's all been very exciting," says Bailey, a 5-foot 9-inch 160-pound senior who is drawing interest from colleges such as Utah and Oregon State. It's not surprising that college recruiters are interested - he's got great instincts and breakaway speed.
"He's reminiscent of (former Iolani and University of California running back) Joe Igber," Derby says. "He runs a lot like my college teammate (at UH) Gary Allen."
Bailey was an all-state selection last year for Damien on a team where he carried much of the load. A change in head coaches this season means fewer carries, but the big yards just keep on coming.
"We're working hard with a new offense and beginning to have more of a passing game. I like it," Bailey says.
"We don't want him to feel like he has to carry the team," Derby says. "We need to take some of the stress off of him."
That's not to assume that Bailey ever gets stressed out. Derby describes him as a playful athlete who works extremely hard in practice, but sometimes the coach has to remind his star player who he is.
"He'll jump in as a nose guard on a practice play, and I'll have to yell at him to get out there," Derby says, laughing. He says he appreciates Bailey's never-ending positive energy.
Call it lightning in a bottle. "When I watch him, I'm like 'Wow!' He's one of those athletes who come around maybe once a decade," Derby says.
Bailey grew up in Kalihi, where he's been playing ball since early elementary school. "I've been playing since the third grade," he says. "I played Pop Warner for Palama in the Military League. I always played running back, right from the start. With each coach, I've learned more and more."Learning is very important to Bailey and to his parents.
"My mom decided I needed a good education. That's why we chose Damien," Bailey says. He stays on top of his studies, too. Last semester, he sported an impressive 3.5 grade point average.
Bailey is hoping that the impressive numbers keep on coming all this football season. Damien plays in the tough ILH Division II. The Monarchs are hoping that they can win their division and earn a berth in the state D-2 championships.
"I want to go out with a nice year," Bailey says. "I think we have a chance to be really good."
The goal is to try and catch the speedy running back. That's something that opposing teams have been trying to do for years.
Much of the time, all they see is the back of his jersey.
Kama Bailey just keeps running. And running. And the touchdowns just keep on coming.
Most Recent Comment(s):