The Stories Behind Jersey Numbers

By
.(JavaScript must be enabled to view this email address)
Wednesday - May 02, 2007
|
Share
Del.icio.us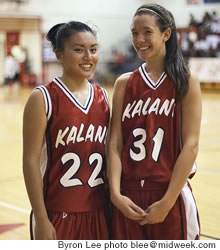 Megan Kamehiro and Courtney Gaddis: it's
all in the numbers
When I was coaching basketball at the Academy of the Pacific, I remember vividly the day the uniforms came out. My two captains announced to everyone that they had first dibs, an announcement that I found amusing.
Here's why: They wanted their favorite numbers! And nobody was going to get to those numbers first!
One captain picked No. 23 because he was a big Michael Jordan fan and the other captain picked No. 1 because, well, who doesn't want to be number one? Ironically, the player who got that No. 1, Kaimana Komine, was later selected as the top player in ILH Division II that year, which meant that the number really came through for him.
Selecting uniform numbers is often a big deal to athletes.
I know it was for me when I was playing baseball and basketball as a youngster. While I admired L.A. Dodger Sandy Koufax (No. 32) and L.A. Laker Jerry West (No. 44), I always asked for No. 53, Dodger pitcher Don Drysdale's number.
Years later, my daughter Becky, who always wanted No. 8 for the Lakers' Kobe Bryant when she was growing up, asked for No. 53 when she played college basketball at Columbia. I was deeply honored.
Family members often wear numbers to honor another family member.
That's the case for Kamehameha senior point guard Analee Viena Lota, who chose No. 12 because of her grandfather. Her grandfather wore that same number when he played for the Warriors years ago, and Analee says she wants to carry on the family legacy. She also says the number makes her feel his "mana".
The "mana" must be working because Analee is one of the most talented players in the state this high school girls basketball season.
Then, there is senior guard Courtney Gaddis of Kalani. When Gaddis played for La Pietra her first three years, she chose to wear No. 21 in honor of her favorite local college player, former Wahine star BJ Itoman. But No. 21 was already taken when Gaddis transferred to Kalani this year. She didn't want to take that number away from her friend Chelsea Kimura, who offered it to her, so she switched to No. 31.
No. 31 is the number always worn by Courtney's brother, Kainoa, whose initials, K.G., are the same as NBA superstar Kevin Garnett. Courtney not only wears No. 31 this season, but has already reserved the number when she plays college ball at Whitworth in Washington state next year.
Courtney's backcourt teammate Megan Kamehiro says she's not as picky when it comes to uniform numbers. She says she was given No. 22 when she made the varsity as a sophomore and just kept it.
But numbers fans may remember No. 22 as the uniform of legendary NBA star Elgin Baylor. KFVE's Chris McLachlin does. That's why he always wore No. 22 during his playing days.
Ironically, Chris' son Spencer, who was selected as the ILH Division I player of the year this season in boys basketball, picked No. 50 for purely logistical reasons. Spencer is 6-feet 7-inches tall and that was the only uniform that fit him!
Some other favorites: Kalani teacher and P.A. announcer and former St. Louis three-sport star Mark Brilhante always wore No. 12 because his favorite player was Hall of Fame quarterback Terry Bradshaw, No. 12, of the Pittsburgh Steelers.
Even MidWeek editor Don Chapman says that when he played high school football, he wore No. 42 because he grew up idolizing Joe Francis, the single wing tailback who'd led Oregon State to the Rose Bowl - and who these days is better known as the father of NFL-bound Ikaika Alama-Francis.
Jim Gaddis, Courtney's father (and the person who suggested this column) always wore No. 17 (Boston Celtics star John Havlicek's number) when he played football, and then wore No. 42 in all other sports. No. 42 is the legendary Jackie Robinson's number, a number that was retired by Major League Baseball just last month.
Gaddis had a special reason, besides his admiration for Robinson. You see, Gaddis' birthday was April 15, the anniversary date that baseball celebrates as the day Robinson broke the color barrier.
Whatever the reason, numbers do matter! What's your favorite?
Most Recent Comment(s):