Album Fulfills A Promise To Mom

By
.(JavaScript must be enabled to view this email address)
Friday - May 25, 2011
|
Del.icio.us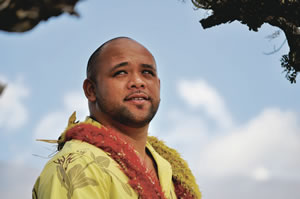 Kuana torres Kahele of na Palapalai takes a solo turn with Kaunaloa
Check this out:
Kuana torres Kahele's debut solo album Kaunaloa already sold 2,000 copies and it doesn't release until July!
"This is kind of shocking for me, and I gotta say that I'm surprised," says Kahele, who now resides in Hilo. "When I was told the numbers, I told him check the numbers again."
The sales alone are an incredible accomplishment for Kahele, who is known for his falsetto talents in the group Na Palapalai. The interest generated from fans throughout the world, he explains, is merely a bonus. "What I'm most happy about the album is that it's finally completed after all these years because this album is a promise that I made to my mother. This is my mom's wish."
Kaunaloa has been 15 years in the making. It was a project that Kahele intended to release before Na Palapalai's debut album.
"My solo album sort of got pushed aside, and so after Na Palapalai's first album then that's when I was going to try to release my solo album again. But that's when my mom passed away, so that really pushed it back."
With the instant success of Na Palapalai, which earned five Na Hoku Hanohano awards in 2003 for their first album, Kahele and his band mates were engulfed in gigs and quickly hit the studio, releasing their second album two years later.
"From there it remained in the back of my mind, and I concentrated on Na Palapalai rather than myself," says Kahele. "Only in this past two years did I really buckle down on it."
The album title means "to persevere," which is exactly what Kahele did to ensure that he would fulfill a promise to his mom.
"Perseverance is something my mom instilled in me," says Kahele. "For me what Kaunaloa means is to persevere in Hawaiian music. All these mele on this album are key points in my life and about the key people in my life that got me here."
One of the songs, Ke Anu O Waimea, which also appeared on Na Palapalai's first album, has been redone for this release. It's a song Kahele wrote for his mom that speaks of the timeless Waimea love story between his parents.
"Although this song is written specifically for my mom, when I compose, the inspiration is always my mom. Everything I do, my inspiration is from her."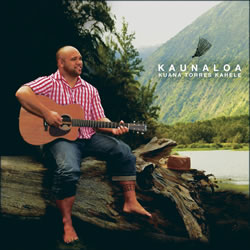 The album title means 'to persevere' in Hawaiian
Kaunaloa features 13 tracks with 11 original compositions by Kahele. The selections not written by Kahele are the medley of Mokihana Lullaby and Ua Noho Wau A Kupa, which is a duet with fellow Big Islander nani Lim-Yap. Also contributing their talents to the album are Grammy-nominated sonny Lim and Kumu Hula snowbird Bento.
"The album really covers the key points in my life for the past 15 years, beginning from the day I wrote Ke Anu O Waimea to now," says Kahele.
The album pays tribute to his mother, who was born and raised on the Big Island. The songs include areas such as Kinkajou (on the slopes of Mauna Kea), the Waipio and Waimanu valleys, and Miloli'i for their personal meaning to him and his family.
The cover and inside booklet shots we taken at Keanakolu and Waipio Valley by sig Zane and his son Kuhao.
"Keanakolu was my mom's stomping grounds when she was young, and Waipio is where she was born," explains Kahele. "The day we went into Waipio to do the photo shoot I took my mom's younger brother with me. It was really nice because he hadn't been back, I think, since he was born."
The album tells the story of his family, his journey and shows his growth in music and in life. And this intimacy was made possible through a partnership of four friends, Kahele, Lihau Hannahs and Kellen Paik of Kupaoa and Marc turner, artist/owner of Bethel Street Gallery. Their independent record label, Hulu Kupuna Productions allowed Kahele the freedom to create the album of his dreams.
"I'm happy that I waited, because everything happens for a reason. In the past we (Na Palapalai) never owned any of our stuff or had a lot of the say, but this time around we own it all. This project, I own it and I have 100 percent say. I love it."
Kaunaloa will be the biggest release in volume Hawaii has seen in several years. More than 20,000 CDs have been ordered for the initial release, based on anticipated sales. And it is slated to debut in more than 100 stores.
His album release will kick off July 2 in his home-town at the Civic Auditorium with the second annual Ho'ina Ke Kumu concert. The CD hits stores July 5, and from there a CD release party is in the works for Oahu. And then it's back in the studio as Kahele and his Na Palapalai ohana of Kehau tamure and ioane Burns gear up to record album No. 5, which is anticipated to release at the end of this year.
"Na Palapalai will always be Na Palapalai," explains Kahele. "So for my solo project, it's separate and I want to try to keep it separate. It might be a challenge, and I'm anticipating it to be a challenge, but we'll figure it out as we go."
The CD is available for pre-order at napalapalaimusic.com. Here's the bonus: All pre-orders will be autographed and shipped on July 1.
Most Recent Comment(s):