The Big Neighbor Island Hoku Haul

By
.(JavaScript must be enabled to view this email address)
Friday - June 08, 2011
|
Del.icio.us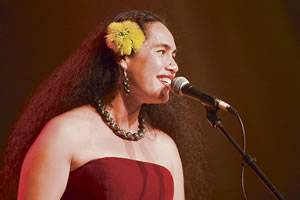 Kainani-Kainani Kahaunaele performs at the Na Hoku Hanohano Awards
It was all about representing the Neighbor Islands at last week's Na Hoku Hanohano Awards.
Maui's Willie K won Christmas Album of the Year. Also representing the No Ka Oi Isle was Napua Makua, taking home Hawaiian Album of the Year, Female Vocalist of the Year and Favorite Entertainer of the Year.
Kaua'i's Kainani Kahaunaele doubled up with Haku Mele and Hawaiian Language Performance. And Kepa cruse, a Kamehameha Schools graduate born and raised on Kauai, won R&B/Hip-Hop Album of the Year.
John Keawe of the Big Island won Slack Key Album of the Year.
The big winner of the evening was Mark Yamanaka, who did his town of Hilo proud with four awards: Album of the Year, Most Promising Artist, Male Vocalist of the Year and Song of the Year.
Talk about an accomplishment. A debut album taking four of the most prestigious awards is something for the history books.
"I wake up and I see the awards in the house and I don't know if it's for real," says Yamanaka. "It still hasn't sunk in yet."
And I'll bet no one will forget that stunning light-blue, Sig Zane print that he shared with his 9-year-old son Jorden and 6-year-old daughter Ryane, who also accompanied him on stage.
"I needed my kids there because they are my inspiration," says Yamanaka. "They keep me motivated, excited and happy. I needed them there for support."
In case you weren't close enough to see, the design Yamanaka and his keiki wore is from Sig Zane's Hilo collection and artisti- cally shows the streets of the town.
Father and son took the stage for each of the award presentations, and Ryane made a special appearance when Dad won Song of the Year for Kaleookalani, which he wrote for her.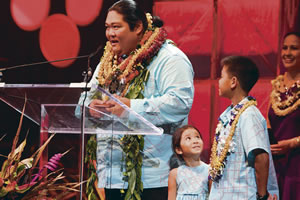 Mark Yamanaka, with his children Jorden and Ryane, accepts the final award for the evening, Album of the Year. Philip Spaulding photos
"Winning Song of the Year has really gave me a sense of accomplishment because I wrote that song, that's my song," says Yamanaka. "And it's for my daughter."
Yamanaka's album Lei Pua Kenikeni resonates his passion for music and the talent that has he's nurtured with years of experience.
"I've been doing music for almost 20 years," he says. "I started in intermediate school, played with a lot of friends, with hula halau - especially uncle Johnny Lum Ho's halau. I've done a lot of group work, and along the way many have told me to do a solo album, but I consider myself a loyal person. After years of that, though, I knew it was time."
Released through Hulu Kupuna Productions, Lei Pua Kenikeni features 13 tracks: Wailana, Ke Kini 'Omole, Nani Ka Honua,
Sweet Memory/Makalapua, Ai Holo Ise Malie, Lei Pua Kenikeni,
Kihei, Kaleoonalani, Rain Li'ili'i, Kaua I Hilo One, Ke Akua Mana E, Ka Mea Hana 'Apiki and Love Me.
"I really wanted to work with people who I was really comfortable with, and who knew what I was capable of and what I'm uncomfortable with," adds Yamanaka. "I needed that backbone from my friends Kuana (torres Kahele), Lihau (Hannahs-Paik) and Kellen (Paik)."
And, of course, everyone wants to know what's next for this Most Promising Artist.
So I asked.
"I'm just trying to gather my thoughts and probably looking to release another album in about two years," says Yamanaka. "No rush, because I want this album to be heard."
For a listen of what an Album of the Year by the Male Vocalist of the Year that features the Song of the Year sounds like, check out mele.com, itunes or email Mark directly at .(JavaScript must be enabled to view this email address).
Most Recent Comment(s):