Waipuna's World, All That Violin Jazz

By
.(JavaScript must be enabled to view this email address)
Friday - June 01, 2011
|
Del.icio.us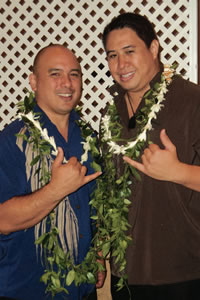 Waipuna: Matt sproat, Kale Hannahs. Photos from Melissa Moniz
It's been a busy past few months for Waipuna with Merrie Monarch, their Mother's Day Brunch Concert, Mele Mei, Na Hoku Hanohano Awards, weekend gigs - and somehow they manage to hold down day jobs.
And there's no rest time for Kale Hannahs and Matt Sproat because they're in the studio banging out their sophomore album before leaving June 18 for a West Coast tour.
So I considered myself lucky that I got to sit down with them to talk story about their album, their jam-packed calendar and food!
That's right, it seems we all share a fondness for good food. And while our conversation started with favorite places to eat on the island, Hannahs and Sproat had to bring up how awesome the food is in Japan.
Lucky for them, they travel there about three times a year. Me? Never been. And while it's always been on my top three list of places to visit, I think they just pushed it up to No. 1. Besides the fact that half my heritage is from Japan and that I love Japanese food, listening to them talk about the how unbelievable the ramen is there was torturous. Their presentation even came with pictures on their phones of their tasty travels. Talk about rubbing it in.
OK, so once I forgave them for putting me through such agony, we moved on to music.
"Last year we were riding the wave of the first album, and with this album we're going to step it up a notch. We're looking to expand, especially West Coast and Japan," says Hannahs, who also serves on the board of governors for HARA (Hawaii Academy of Recording Arts).
In preparation for this album, Hannahs and Sproat decided to switch things up a little. In choosing the songs they each selected and researched 20 of their favorite songs.
"Then we took a trip to Kauai and rented a cabin and decided on the songs," says Sproat, a 1990 Kamehameha grad. "And we also will be working with notable recording artists on this second album."
The album, which is still untitled, is scheduled to release in August or September. In addition to their favorite picks, they've also decided to add more original pieces, which Sproat says, "Will be the highlight of the album."
One of the original pieces was given to the duo by highly respected composer, kumu hula and musician Frank Kawaikapuokalani Hewett.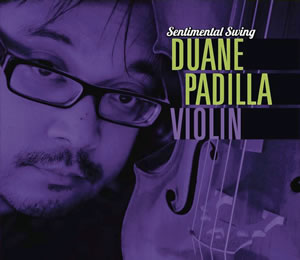 "The way that song has evolved since we first heard it out of his garage is something special," says Sproat.
And once the album is ready to hit stores, Waipuna plans to celebrate with a host of parties here, the West Coast and Japan.
"We're just looking for an excuse to party," says Hannahs, a '96 Kamehameha grad.
In all seriousness, though, expect lots of big things from this perfectly paired duo.
"In so many ways we couldn't be more different," says Hannahs.
"But it works almost like a marriage because there always has to be a give and take," adds Sproat. "And there's always that level of respect and trust."
To keep up with this Hawaiian music pair, visit waipunaonline.com ...
Violinist Duane Padilla has a Bachelor's degree in violin performance from Northwestern University and a Master's in Music from Yale. So you know his debut solo album, Sentimental Swing, which just released today, has to be pretty good.
Padilla, who was born in Chicago and raised in California, moved to Hawaii 10 years ago for a nine-month gig with the Honolulu symphony. And he hasn't left.
"In 2001 I was playing in an opera orchestra in Virginia and there I met iggy Jang of the Honolulu Symphony, and he asked me if I could fill in for nine months," says Padilla. "So I came with the intention to play for nine months, but I never went back home. And I have a twin brother who also plays the violin, and we actually came out to Hawaii together to play in the symphony."
Padilla stayed full time with the symphony for about six seasons, then switched to part time so he could do some teaching. He is now on the violin faculty at Punahou Music School and teaches about 30 kids in the after-school program.
"I teach a lot," adds Padilla. "I fly to Maui once a week and I have 10 students there. I also do lessons from my home. I teach all ages from beginners to advanced.
"In teaching, I believe all kids have potential. I'm not like the old school teachers, where there's a lot of drilling and repetition. It's more about finding your own voice through the instrument."
Padilla's new album marks a new step in his journey with the violin that began when he picked up the instrument at the age of 4.
Next thing he knew, he'd spent 15 years as an orchestral musician. Having never played a jazz tune before, Padilla literally stumbled upon the jazz scene when he was called up from the audience to play with azure Mccall and tennyson stephens. From there he was seen around town with the band the Hot club of Hulaville, whose album Django Would Go! is nominated for Jazz Album of The Year at this year's Na Hoku Hanohano Awards.
"About five years ago I started hanging out at jazz clubs, and that's how I started learning jazz," says Padilla. "The cool thing about jazz is that it's so free. When you play classical music there's a composer, and from the outside you come in and you spit out someone else's ideas. What I like about jazz is that it comes from inside of you."
Padilla's new album, inspired by Frank sinatra and ella Fitzgerald, features 10 tracks: How High The Moon, Cry Me A River, There Never Will Be Another You, Body And Soul, Don't Get Around Much Anymore,
Autumn Leaves, Green Dolphin Street, Embraceable You, Our Love Is Here To Stay and Imagination. Joining him on the album are Tennyson Stephens on piano and stephen Jones on bass.
"What I love about this album is that it's completely improvised. There was no practices before or sheet music," says Padilla. "Tennyson and Stephen just showed up. I didn't tell them any songs that we'd be playing. Then in two hours we had recorded the whole album."
For his album or more on this talented violinist, visit duanepadilla.com.
"I would love to get to the point where I could travel as a jazz violinist," says Padilla. "I have really fallen in love with jazz, and I think that's where my heart is going artistically."
Most Recent Comment(s):