Did You Hear About Our Pretty Little Liar?

Wednesday - August 11, 2010
By
.(JavaScript must be enabled to view this email address)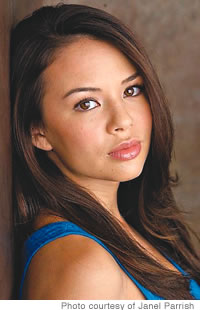 Janel Parrish got her first taste of fame as Little Cosette in Les Miserables
An Island girl who was seemingly born to sing and act, Janel Parrish is making fans with a starring role on the TV hit Pretty Little Liars
"Got a secret, can you keep it? Swear this one you'll save. Better lock it, in your pocket, taking this one to the grave. If I show you then I know you won't tell what I said ... 'Cause two can keep a secret if one of them is dead." - "Secret" by The Pierces, "Pretty Little Liars" opening theme
Shhh ... Everyone has secrets, but what's definitely no secret is the rising success of ABC Family's hit show Pretty Little Liars.
Based on a series of novels by Sara Shepard, the television series premiered earlier this year and follows the lives of four high school girls - Spencer, Hanna, Aria and Emily - whose clique falls apart after the disappearance of their queen bee, Alison. A year later, the girls begin receiving messages from someone using the alias "A" who threatens to expose their secrets - including ones so deep they thought only Alison knew. Oh, we love the way they lie!
Yet, here's a secret we're willing to reveal:
Although season one just wrapped up (this Tuesday), Pretty Little Liars has been signed for another 12 episodes, so keep your eyes peeled for the show and you'll probably catch a familiar face (if you haven't already) - Hawaii's own 21-year-old Janel Meilani Parrish.
Parrish, a Kaneohe native, plays the role of Mona Vanderwaal, Hanna's BFF who is now a loud and obnoxious popular girl, overcompensating for the dork she used to be.
"It's a fun role to play!" says this half-Chinese, half-Caucasian beauty who now works as an actress, singer and songwriter in North Hollywood.
"My character is very fickle. She can change her mind very quickly about a person depending on how she feels they will affect her popularity."
Labeled a goofball by her friends and family, this local girl is full of smiles and easy to entertain, quite the opposite of her character on the show.
"I'm a very happy girl! I like to surround myself with good, positive people who keep me grounded and happy," Parrish says.
"I auditioned for the role of Mona last fall. When I found out I got the part, I went out and bought the books - I loved them! I'm so glad to be a part of such a great story and show. This has been an amazing experience. It's really fun working with a cast with a lot of people around my age. I've definitely made a lot of friends."
Parrish says she was bitten by the acting/singing bug at a young age and credits her parents' love for the performing arts, which eventually caught up to her. Fortunately for Parrish, however, she possessed an incredible talent for performing that allowed her to succeed at something she was so passionate about.
"My parents, Mark and Joanne, would always listen to Broadway show tunes," recalls Parrish, who attended Moanalua Elementary, Middle and High schools until the ninth grade.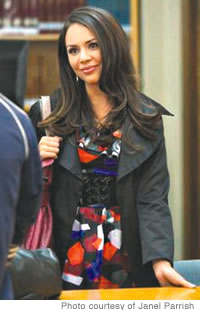 Janel Parrish says her character Mona is 'very fickle'
"I fell in love with the soundtrack to Phantom of the Opera, and after I saw it at the Blaisdell when I was 6, I knew performing was what I wanted to do.
"The Broadway and Touring Company of Les Miserables held open auditions for Little Cosette in 1996. I begged my parents to let me try out, and I got the role. I spent nine months on tour and two months on Broadway."
Upon returning to the Islands after a whirlwind of a tour, Parrish began making a name for herself in local theater productions across town. She most notably appeared as Scout in Manoa Valley Theatre's revival of To Kill a Mockingbird in 1998.
At the age of 11, her acting coach suggested that she travel to Los Angeles during summer breaks to audition for various on-screen roles on a larger scale.
"Once I started getting some work, my very supportive parents decided it would be a good idea to move me out to L.A. We moved when I was 14," Parrish explains, saying it's definitely no Hawaii, but it's where she needs to be.
"I'd say my greatest achievement is that I'm living my dreams. I'm doing what I've always wanted to do and it feels great!"
In addition to her role in Pretty Little Liars, Parrish is best known for playing Jade in the 2007 film Bratz: The Movie. She also landed a recurring role in the NBC-TV series Heroes as the character May.
Her singing voice is so good, in 2007 she was signed by Geffen Records to produce her first album, and later that year released her first self-written single, Rainy Day.
Currently, Parrish and the rest of the Pretty Little Liars cast are on hiatus from filming until September, so she's enjoying her break by spending time with her family, her boyfriend and her dog, Oreo.
"I'm a pretty simple girl. Give me a good movie and some nachos and I'm a happy camper," says this self-proclaimed shopaholic.
"I just got my first apartment! I'm so excited and have been going crazy decorating it. I've been enjoying my break, but miss going to work. When we do film, it's long hours - and sometimes we have night shoots in which we could film from 7 p.m. to 7 a.m. But there's no place I'd rather be than on set."
Well, then again, maybe not.
Home is always where the heart is, and Parrish undoubtedly misses her Island home. What does she miss the most? That's an easy one: besides her family, ono grinds, of course!
"I'm lucky I have family there and they feed me! Spam musubi, kalua pig, kakimochi, tako, sushi ... I love it all," says Parrish. "I miss all those foods when I'm on the Mainland, and all I want to do when I'm home is go to the swap meet and to the beach! Gosh, the beaches in California don't compare at all - they're cold!"
Truth be told, this pretty little liar has some pretty big talent. She's taking the world by storm and is not planning to stop anytime soon.
"It's great to hear the response from the fans of the books and show," says Parrish. "I love hearing that I'm doing a great job portraying the character. You can definitely expect more from Mona."
But alas, we all must wait till next season.
Most Recent Comment(s):