Aloha, Maryknoll Sisters

Wednesday - July 26, 2006
By
.(JavaScript must be enabled to view this email address)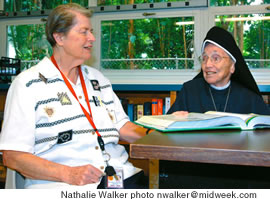 Sisters Marie Patrice Kehoe and Rosario Daley
In 1927 the City of Honolulu pulled into port at Aloha Tower. A group of six industrious women stepped off the ship, and within four days they had formed a classroom of 170 students. They were the Maryknoll Sisters, the first congregation of American Catholic women to leave their motherhouse in Ossining, N.Y., to do missionary work abroad. They were also the founders of Maryknoll School.
Today the school, which has grown to an enrollment of 1,400, is set to bid farewell to the last two Sisters to serve at Maryknoll, Sisters Rosario Daley and Marie Patrice Kehoe.
The more soft-spoken Sister Marie Patrice is happy to let Sister Rosario tell their story. The two women, now in their 80s, came to Hawaii in 1948 on the luxury liner Lurline.
"It was cheaper than flying in those days," says Sister Rosario, who begins recounting a bygone era in Hawaii.
In "those days" the milkman delivered milk to the convent on the corner of Alexander and Dole, and Y. Hata delivered the groceries. Students rose when the teacher entered the classroom and quickly offered to assist teachers with their book load.
"These days, no matter how many books you're carrying, you're gonna carry 'em."
Back then, students dressed in uniforms that made the Sisters proud. "Now their trousers are trailing behind them."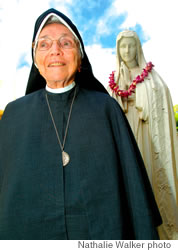 Sister Rosario Daley before a
statue of Saint Mary
Students' lives were not yet burdened by some of today's complexities. "Drugs were things you bought at a drug store for a cold or sickness."
Sister Rosario speaks with a certain lighthearted nostalgia.
"I loved helping the students learn to be polite," she says, nearly blushing as she recalls coaching them for the prom. "We used to practice introductions, "May I have this dance?'"
Every Wednesday the sisters would visit the students' homes. "We didn't go for problems, we went to know the parents."
Sister Rosario was in charge of teaching math, Latin and religion, and Sister Marie Patrice taught English and math. The two went back to New York in 1964 during which time they furthered their education at Pace University. They returned to Hawaii 20 years later - Sister Marie Patrice as an R.N. and Sister Rosario with a graduate degree in mathematics and a background in computer science (using the difficult, time-consuming and now obsolete Hollerith card system for data processing). For the past 10 years Sister Marie Patrice has served as the school nurse and Sister Rosario as a college guidance counselor.
The effects of the changing times are lost on the Sisters. Sister Rosario has been known to hike Mount Olomana in full habit (though the wearing of the garment is a choice), and Marie Patrice sometimes remedies her students' ills with just some old-fashioned TLC and a cough drop or a nap.
While laypeople now run the school, the tradition started by the Sisters burns strong. The school stands by its motto, Noblesse Oblige, "to whom much is given, much is expected." In return for their education, the students are expected to volunteer 100 hours of field work before graduating. Some volunteer at places like Shriners Hospital, and others take advantage of the school's annual trip to Assumption Schools in the Marshall Islands to help out wherever needed.
The school's religious fiber does not demand that students have a Catholic background. In fact, there is no religious majority at the school. The sisters embrace interactions with all denominations.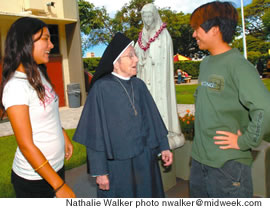 Sister Rosario Daley shares a light moment with
students Kaimi Aiona and Travis Ota
"You can't operate in ignorance," states Sister Rosario, who once invited a Buddhist speaker to the school. "You have to know about each other. That's the kind of spirit we try to come up with Noblesse Oblige. There's a richness in everybody."
The Sisters have generously instilled that spirit by sharing their own education, wisdom and lives with Maryknoll School. Students have reciprocated fondly by including the Sisters in many alumni reunions as guests of honor. Both Sisters were recently acknowledged for their body of service at the school during the 2006 Alumni Class Dinner on July 15.
July 31 will mark the end of the Sisters' 80-year history at Maryknoll School. Sister Marie Patrice will go back to New York as part of the nursing staff at the original Maryknoll convent (named after the Blessed Mother and the knoll where it was built). Sister Rosario will find "ever so many things to do" when she moves in with a group of sisters who live in Manoa.
"These two Sisters model those who came before them," says Maryknoll principal and alumna Betsey Gunderson, who studied geometry under Sister Marie Patrice. "They were women who believed passionately about making the world a better place, and they were bright women - educators, doctors, nurses. They had a willingness to serve and with no pretensions. If you weren't Catholic, it didn't matter.
"In 1929 the founder of the Maryknoll order, Mother Mary Joseph Rogers, said, 'As one lamp lighting another doesn't grow less, so nobleness enkindles nobleness.'
"They have passed that candle on to us - we've been touched by their warmth and light and we will continue to burn brightly."
Most Recent Comment(s):