Carrying On A Father's Lifetime Work

Wednesday - December 23, 2009
By
.(JavaScript must be enabled to view this email address)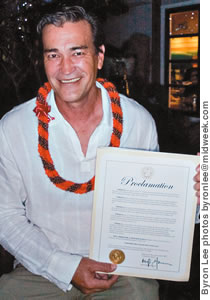 Hugh O'Reilly with a proclamation from the mayor
The Army's Wolfhounds carry on a tradition of supporting a Japanese orphanage, as they have since 1949
On Dec. 9, in the spirit of the upcoming holiday season, one of Oahu's most iconic restaurants played host to one of Hawaii's older - and least known - charities.
The event also celebrated the 60th anniversary of a group of American soldiers, stationed in Japan during the occupation, taking an Osaka orphanage under its wing. The broken-down facility made such an impact that the soldiers of the 27th Infantry Regiment "Wolfhounds," based at Schofield Barracks, took it upon themselves to improve conditions for the children. They collected $143. Two years later the pass-the-helmet campaign raised $10,400.
Led by an Irish-born and New York-raised soldier, the unit turned one visit into the Army's oldest charitable partnership.
"There was real need that these men recognized," says Hugh O'Reilly, whose father was the aforementioned Irishman. "You can imagine, after the war all Japanese were living in some type of hardship, and a bunch of orphans being raised by foreign nuns in a French order, I'm sure they were very low on the priority scale in terms of any government aid. I have seen pictures of the orphanage when it first started and it was pretty bad. I talked to some of my father's old friends, and he talked guys into 'gathering things together' to bring over there - food, supplies - and eventually help them build an orphanage."
O'Reilly's father, who also was named Hugh, was the driving force behind the charity that now brings four orphans each year to Hawaii for a vacation and to be part of a family for perhaps the first time in their lives. According to the son, the effort was the driving force in his father's life until he passed in 2006 at the age of 97.
"It absolutely became his life's calling. While he was at the bank (of Hawaii), wherever he was, it was always the orphanage. Every year, as kids, we went to the orphanage. He was constantly on the phone with them, but he never learned to speak Japanese. It was his life's calling literally until the day he died."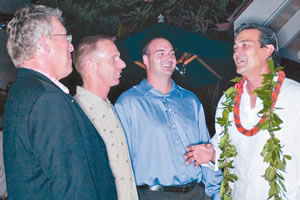 O'Reilly laughs with (from left) Peace Bridge president Mark James, Lt. Col. Dan Wilson and retired Wolfhound Clint Dodson at the recent fundraiser Hugh O'Reilly with a proclamation from the mayor
He gave more than his heart. O'Reilly says his mother Yuko had to lean on the kindness of priests for food because his father had given his check to the orphans. Lack of money even forced the newlyweds to sleep on army cots for a time.
"It was just a way that we lived," O'Reilly says. "We always did that. The family was always involved in charities in one form or another. I know it sounds very Pollyanna, but it was just the way we grew up."
That dedication to others hasn't stopped. O'Reilly's wife Norma is the community relations director for Parents and Children Together, an organization that provides social and educational support to children and victims of domestic violence.
Hugh O'Reilly with mother Yuko, brothers Thomas and Sean, and son Ian
For his efforts, the elder O'Reilly became an unwilling star. While in the process of building the new orphanage, the story was picked up by the national media, and the New Yorker devoted seven pages to the story. That story led to a movie, Three Stripes in the Sun, which was released in 1955. And while Dad was the star, or at least an altered version of him, the O'Reilly children were never allowed to see the film. Years later the son found out why. The film stuck to standard themes of the day. Sgt. O'Reilly, in the movie, wasn't "the most color-blind person I ever met," as described by his son, but a stereotypically tough American soldier resentful of the Japanese.
In fact, the senior O'Reilly married a Japanese woman fathered six children and decided to live in Hawaii, figuring it was the best place to raise mixed-raced children. That it was the home of the Wolfhounds also helped. He wasn't about to leave his soldiers or his orphaned children alone. He even passed up promotions to better help the kids.
"He refused to be commissioned," says the Ewa Beach native. "I know that was an ongoing battle. I remember hearing tales as a kid. The Army wanted to make him an officer, but he was concerned that if the Army made him an officer, then the enlisted men would-n't donate to the orphanage. So he stayed an enlisted man."
The kids from The Holy Family Home, which is administered by the Sisters of Charity of St. Vincent de Paul, usually arrive in Honolulu each July draped in lei and ready for a good time. During their two-week stay, they hit the beach, picnic, perhaps head to Wet 'n'Wild Hawaii water park or Polynesian Cultural Center, and most importantly, be part of a family - several, in fact. Each child stays with a family for a few days before being welcomed into the home of another. O'Reilly says this is because there are more willing Wolfhound families than there are orphans, so they share. "When they come out here it just warms your heart. They haven't had a chance to be around a family, and it struck me that it may be possible for these kids that their trips were the best moment of their lives. That's pretty sad - 12 years old and their best moment ever? We have to change that."
After he retired, the senior O'Reilly was given an office at the Wolfhounds' headquarters at Schofield. He arrived each day to press for donations and to remind incoming soldiers that the charity is part of their unit legacy and needed their continued support.
"To the Wolfhounds, it was like breathing," says the junior O'Reilly. "It was just what you did. I think one of the most amazing things about this is that those guys ship in and out of here every two years, so there has been a constant turnover of soldiers who were not aware of this legacy, and part of my dad's role was to tell the guys about this and let them know that this is a part of you now."
Three years ago, O'Reilly created the Peace Bridge Foundation to aid the Wolfhounds in their support of the orphanage. The abovementioned fundraiser at the Willows was an effort to raise money and awareness, but also to tell the story about the soldiers who have supported the charity since day one.
"One of the reasons we started Peace Bridge was to make sure the legacy remains a Wolfhounds thing, because if it is based on one man (his father) it will end. We want this to go into perpetuity. They (Wolfhounds) supported it all the way. He couldn't have done it without them."
The nonprofit hopes to increase the assistance to the orphanage by including college scholarships for the graduates and to help the children find homes in both Japan and Hawaii. It will be a long road, because the organization is not one to draw too much attention to itself. If O'Reilly has his way, soon there will be almost no presence of the family name in fundraising:
"It's important for me to minimize the O'Reilly presence on this board. We don't want this to be an O'Reilly thing. We want this to be a Wolfhound thing, and even more important to us is to bring the community of Hawaii in here. The Wolfhounds have been in Hawaii since 1920. They are part of Hawaii, and what is more aloha than doing what they do?."
Even with the thousands of dedicated soldiers who continue to support the mission, whether they remained in Hawaii or have transferred elsewhere, help is still needed. Donations are welcome, as are individuals who speak Japanese and businesses that can throw in a free meal or a fun activity for the kids. Federal employees can give through the Combined Federal Campaign.
Anyone interested can contact Peace Bridge at .(JavaScript must be enabled to view this email address) m or call 388-6000.
Most Recent Comment(s):