Augie T.
Wednesday - August 09, 2006
By Kerry Miller
|
Share
Del.icio.us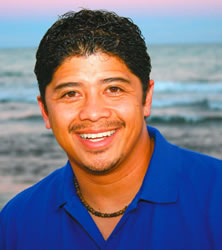 Augie T.
Comedian Augie T. is going back to his roots on Tuesday, Aug. 15, presenting a special concert at his alma mater, Farrington High School.
The "Comedy in the Community" show is the first of many hosted under the wing of his foundation, "Augie T. Speak The Dream," which was established to raise money to help kids go to college.
"I never got the chance to go to college. I never understood I could get to go to college for free (through scholarships, grants, loans, etc.). I want to give kids a chance to go," says the Ewa Beach resident.
"Comedy in the Community" plans to travel to 25 communities over the next year. Check out http://www.augietulba.com for more information.
"I grew up in low-income housing," reveals the MidWeek cover subject from August 2000. "We're trying to help kids achieve big goals. It will be cool."
"What I'm going to do is turn Farrington into the Kodak Theatre, going to do a red carpet walking into the theater," he adds. "I want people to walk in feeling like a superstar, not me. People can come in and laugh. McDonald's and First Hawaiian Bank helped me put it together."
Tickets for the show are $20 and are on sale at all Oahu Local Motion stores.
Although he calls Oahu home, the comedian is currently traveling throughout the Mainland doing his comedy act in Boston, Alaska, San Francisco and Vegas, plus Guam. You can still catch him on Island 98.5 FM radio with co-host Lanai from 5 to 10 in the morning, and on Wednesday and Thursday nights at the Esprit Nightclub in the Sheraton Waikiki Hotel.
"In December I do the Plaza Hotel in Las Vegas. I work from all over the place; I have my own moving studio that allows me to do my shows on all islands. I do comedy in Boston and do my show," he explains.
His new DVD, Then and Now, is set for release and features footage from his travels during the past year.
An independent movie starring you-know-who is scheduled for release later this year. Written by Joe Moffat, Horsepower is the story of two guys who try to find themselves and eventually do so with the help of a friendly horse. Augie plays a Filipino character who in the end rides off with the horse.
His upcoming show, movie and DVD aside, Augie says life is good and he owes a big thanks to his loyal fans.
"My family is all intact. Everybody is happy. I just want to say thank you to everybody who supports local comedy."
- Kerry Miller
Most Recent Comment(s):