Mitsuo "Mits" Aoki
Wednesday - August 20, 2008
|
Share
Del.icio.us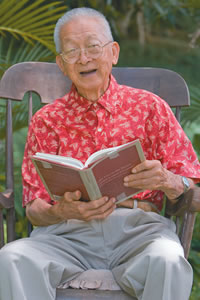 When Mitsuo "Mits" Aoki appeared on MidWeek's cover back in October 1987, he was a 73-year-old counselor and professor working to help the terminally ill and his students understand dying and death.
Aoki was quoted in that story, "My work is to help dying persons turn their dying into an achievement, a shining work of art." Now at 93 years old, his past statements are helping him prepare for his own journey.
His speech is a little slow, and you can hear the age in his voice, but his mind is still sharp and he is very careful in choosing his words.
"Death can be a liberating phenomenon," says Aoki. "I worked for 43 years teaching embracing death. And when people embrace death, they touch something - like when my wife died."
Lynne Aoki passed away in 1993. Before her death, she would assist in Aoki's quest to remove the stigma from death.
Where most people would find sadness in his wife's passing, Aoki found joy. "Because of the teachings, she started emerging in her own right," he says. "It was such a joy to have a wife who became a new person, so to speak."
The now-retired professor was born and raised on the Kohala plantations on the Big Island, converting from Buddhism to Christianity in his 20s. He earned his doctorate from Chicago Theological Seminary, ministered on Maui and Kauai for several years and then traveled the world searching for "planetary consciousness."
Aoki is most well-known for beginning the school of religion at UH-Manoa in 1956, introducing courses on death and the dying to the university's curriculum. "I enjoyed teaching," he says, estimating the total number of students he taught at about 49,000. "It was one of the most popular courses I taught. The students just loved me."
To this day, he sometimes makes it down to Waikiki to visit some of his favorite students.
Aoki now lives at Pohai Nani, a retirement community in Kaneohe, but is not finished working just yet.
He will show his documentary, Living Your Dying, at Unity Church of Hawaii Aug. 23, 4 to 7 p.m., to commemorate the many years he has contributed his knowledge of death and dying to the community.
When asked if he had anything he wanted to say about the film, Aoki says, "No. I've said enough."
For more information on the film or the screening location, visit www.livingyourdying.com and www.unityhawaii.org, or call 735-4436.
Most Recent Comment(s):