A Councilman Cuts Out The Fat

By
.(JavaScript must be enabled to view this email address)
Friday - May 07, 2008
|
Share
Del.icio.us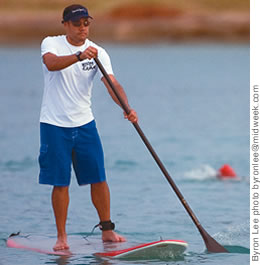 Donovan Dela Cruz paddles at Ala Moana
A couple of years ago, City Councilman Donovan Dela Cruz decided to join his colleagues Todd Apo and Charles Djou in the Honolulu Triathlon. However, he ended up having to attend a conference instead.
So last year, in hopes of keeping his promise, he decided again that he would do the triathlon. He hired a personal trainer and started training for the grueling multi-sport race consisting of a 1,500-meter swim, 40-kilometer bike and 10-kilometer run.
Again he wasn't present at the start line, but he continued to train and in the end earned something worth much more than a finisher's medal. He gained control of his health - and without having to give up his favorite foods.
"I met with personal trainer Eric Okamura from Fit for Life last April and said, 'I need to train for this triathlon in May,'" recalls Dela Cruz. "So he did a body age analysis on me and based on the configuration, my body age was 51. I was really 33 years old, so that was a huge wake-up call for me!
"I started training regularly, and Eric put me on this Body Bugg (arm band device) that reads calories you burn every day by the minute. So I made sure I ate less than I burned because I needed to have a calorie deficit."
Dela Cruz, who turns 35 in July, also added weightlifting, daily cardio training (running or trekking with Nordic walking poles), hiking, biking and stand-up paddling to his busy schedule. He even biked (for two hours) from his home in Wahiawa to City Hall in celebration of Bike to Work Day last May, and pedaled for 50 miles in last year's Century Bike Ride. And he finished the Great Aloha Run last February in one hour and 15 minutes.
"Before, I barely could do one lap around Ala Moana Beach Park, and now I run three times around it," says Dela Cruz. "I started by walking, and then jogging and then running. Also, I never surfed or skateboarded before. But because I was on this workout kick, I bid on this stand-up paddle board at a silent auction and won it. At the silent auction, I explained to my friend Cynthia Lockhart that I didn't know how to stand-up paddle, so she took me out and taught me. Now I go about two times a week. It's a good core workout."
As far as finding the time to exercise, Dela Cruz says you have to have a plan. "Sometimes I wake up early to train or I go during lunch," he explains. "If I have a council meeting I can't get out of that day, then I just try to eat healthier."
As for his diet, Dela Cruz says he didn't really change what he ate, instead it was more of watching how much he ate. He does-n't, however, drink alcohol anymore "because of the high calorie count," except on special occasions.
"I have to make sure that I have a deficit or at least no surplus in my calories," he says. "Or if I have a surplus, then I make it up the next day. Also, now that I've reached the level that I'm at, I really have to watch what I'm eating because the closer you get to your goal, the more a sensible diet becomes a requirement. When I do cardio, I want to make sure I'm burning carbs and not the protein.
"And I love to eat. I wrote a book about food. (He co-authored The Puka Guide 100 Hawaii-Style Hole-in-the-Wall Restaurants, The Okazu Guide Oh, Cause You Hungry!, The Omiyage Guide and The Puka Guide Oahu's Hole-In-The-Wall Restaurants.) I love ice cream and I like homemade baked goods. I'm not a stranger to good food. Ironically, my trainer's mother owns an okazuya, and one of my favorite foods is the chicken skin chips at her place."
At his heaviest, Dela Cruz weighed about 222 pounds. Now, he's down to 164 pounds and feels "terrific."
"My blood pressure in the beginning was 150 over 100 and now it's 120 over 70, and my blood sugar went back to normal," he says. "My goal now is to go down to 15 percent body fat. Right now I'm at about 19 percent. I'm not trying to lose any more weight. I'm more focused on gaining lean muscle mass.
"My advice to people who want to get into shape is you've got to start. Make today a new day. As boring or uncomfortable exercise may appear to be, you have to create a program and follow it. Also, be around people who support you - not the friends who are going to tell you, nah, no need exercise, let's go pau hana. It's so easy to want to give up or to do less."
Most Recent Comment(s):