A Heads Up On Head Trauma

By
.(JavaScript must be enabled to view this email address)
Friday - May 26, 2010
|
Share
Del.icio.us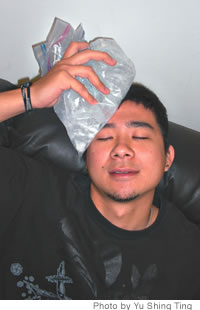 If ice doesn't bring down swelling after a blow to the head, see a doctor
I feel like I'm always hitting my head. Just the other day while I was getting something out of the trunk of my car, a big gust of wind came, blew the lid and whacked my head.
And then there's my 2-year-old son who thinks headbutting people is this really fun game and gave me a big lump on my forehead the other night.
But head injuries are not a laughing matter. Last week, the Honolulu Star-Bulletin reported that the recent death of Miss Hawaii Teen United States Sheryl Wolfe was the result of a "freak accident." She struck the back of her head on a wooden sofa post at home, causing her to die from a stroke the next day.
Last year, actress Natasha Richardson died from brain injuries caused by a fall during a ski lesson. She reportedly declined medical treatment at the scene of the accident and returned to her hotel, unaware that she had suffered an epidural hematoma, which causes bleeding between the skull and the brain's covering. She died two days later.
According to Dr. James Lumeng, chief medical officer at Hawaii Medical Center East, falls and motor vehicle accidents are the most common causes of head injuries.
There are four common types of head injuries: a concussion (trauma to the brain without significant damage, but can affect your alertness), a contusion (a bruise of the brain), a skull fracture and a hematoma (bleeding in the brain).
"When you hit your head, the first thing you do is look for external lacerations," says Lumeng. "After that, what you're looking for are changes in behavior, such as headaches, forgetfulness, vomiting, seizures. Also, if you feel nauseated or become disoriented. If a person notices any of these changes, they should seek medical attention.
"Also, don't take any aspirin because it will aggravate the bleeding if there's bleeding, and if you're on blood-thinning medication you should stop right away."
Lumeng says it is common for people to "brush off" medical treatment after a fall because they feel fine. Usually people will put ice on their head to bring any swelling down. However, if the swelling does not decrease, it could mean the injury is more severe than it seems.
"It's also important to have someone there with you after the injury to observe any changes," adds Lumeng. "And with (young) children, it's even more difficult to assess because they can't tell you how they feel. Any parent who knows their child well should take note of any behavior changes. They also should keep them awake, because if they fall asleep, then they will miss their symptoms.
"Observation is very important. We tend to tell a patient when they go home to have someone watch over them."
Most Recent Comment(s):