A Juicy New Kailua Running Club

By
.(JavaScript must be enabled to view this email address)
Friday - September 21, 2011
|
Share
Del.icio.us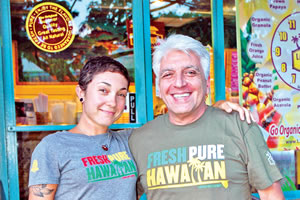 Running Club coordinator Toney Avakova and Lanikai Juice CEO Pablo Gonzalez
Lanikai Juice in Kailua has launched a free weekly running club every Wednesday at 6 p.m.
Walkers, joggers and runners of all levels are welcome to join this family-friendly social group. Participants meet at the store (located at 600 Kailua Road) and head out for a 3to 7-mile run through Kailua.
There also will be free water and refreshments, as well as a weekly raffle for a Lanikai Juice gift certificate.
Participants also can keep track of their progress through a running log database, and there will be occasional nutrition and running seminars.
The runs are led by Lanikai Juice running club coordinator Toney Avakova, a personal trainer and running coach with a background in long-distance running, including half-marathons, marathons and ultra marathons.
"We do a meet-and-greet type of thing so we get to know everybody, and then we discuss the route," explains Avakova, who often places in the top 10 in her running races. "We have a
GPS device (with us) so we have an idea on how fast and how far we're going. And I'm opening my help with my experience in running so people can email me or talk to me about any injuries, any concerns they have, any kind of races they have coming up, so I can provide the information I have. This creates a community where we can share our knowledge with each other."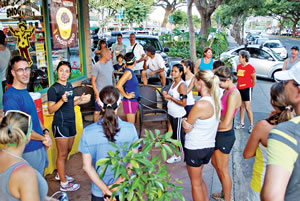 Runners gather at Lanikai Juice in Kailua for its weekly running club. Photo courtesy Lanikai Juice
Lanikai Juice founder and CEO Pablo Gonzalez hopes to eventually have a running club at Lanikai Juice in Kahala and at the soon-to-open location in Haleiwa.
"Part of my mission for my business has always been to give back to the community," says
Gonzalez, who opened Lanikai Juice 14 years ago. "My goal is to, by the end of the year, have a consistent maybe 60 to 80 runners and then we can start thinking in one year to have a Kailua race with proceeds going to a charity.
"I'm a dreamer, and our goal is to create not only a running club, but something that brings together people who share a passion, so in this case it's running."
Gonzalez says he's been blessed with the support of property management company Kaneohe Ranch, and in addition to having a solid running club wants to one day sponsor an art contest in Kailua, as well as a talent competition with proceeds going to a charitable organization.
For more information, call 262-2383.
Most Recent Comment(s):