A Multitalented Narcissus Queen

By
.(JavaScript must be enabled to view this email address)
Friday - July 08, 2009
|
Share
Del.icio.us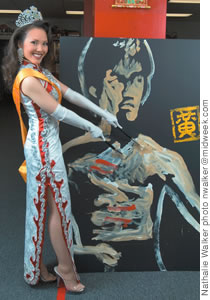 Narcissus Queen Lisa Wong points out the painting she made during her talent performance of speed painting, martial arts and dance
Narcissus Queen Lisa Wong returned home last week after a 21-day trip with the Narcissus Goodwill China Tour.
Since her crowning in January, Wong has been busy fulfilling her duties as an ambassador for the Chinese Chamber of Commerce of Hawaii and representative of the Chinese community in Hawaii. She has attended countless events and public appearances, including a taping for the Ellen DeGeneres Show in February, where she showed off her talent - a combination of speed painting, martial arts and dance that she performed at the Narcissus pageant.
According to Wong, producers at the Ellen DeGeneres Show contacted her after seeing a video of her amazing performance on the KHON2 website.
"Internally, I felt a lot of pressure because I've never been on national television before," recalls Wong of the experience. "I just tried to do my best, represent Hawaii and have fun."
Wong, a 2001 graduate of Iolani School, has always been an active girl. When she was 8 years old, she started learning martial arts with the Kuo Min Tang Physical Culture Association. She also has taken classes in kick-boxing and traditional Chinese dance.
Also, while attending Wellesley College, she taught aerobics.
"My parents always encouraged me to do all these extracurricular activities in addition to studying," says Wong, 26. "You need to have balance, doing different things that complement each other. It's very much like yin and yang."
These days, Wong stays active by exercising three to four times a week. She enjoys cardio activities such as jogging, working out on cardio equipment at the gym and ballroom dancing.
"I kind of rotate between things so I don't get bored," she says. "And (fitness) is really important because it makes me feel better and healthier.
"You need to pay attention to everything - mind, body and spirit - and not just one thing. Otherwise, I think stress builds up. A lot of times if I have stress I'll go running or punch a bag. It really helps. Also, I love to meditate and think about things when I'm exercising. And it's a good way to interact with other people, such as in social ballroom dancing."
Wong still has a half year more to go in her reign, but the Chinese Chamber is currently accepting applications for its 61st annual Narcissus Festival Queen Pageant set for Jan. 9, 2010.
Contestants will have the opportunity to meet new people, learn about their culture, gain poise and self-confidence, and enhance their personal presentation through classes in makeup and skin-care, poise and public speaking. Prizes include scholarships, a trip to the Orient and more.
Contestants need to be 50 percent Chinese with a Chinese surname, single (never been married or given birth to a child), between 19 and 26 years of age on pageant date, and a resident of Hawaii for at least 12 months prior to the pageant.
Application deadline is July 31. For more information, call 533-3181.
Most Recent Comment(s):