A New Respect For Motherhood

By
.(JavaScript must be enabled to view this email address)
Friday - September 26, 2007
|
Share
Del.icio.us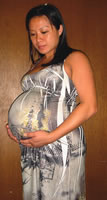 The author
Mother's Day is still another eight months away, but I am dedicating this column to all the moms in this world who really deserve to be recognized every day of the year - especially mine.
As I enter my last week of pregnancy - I hope - I've come to realize the many challenges a mother faces even before her child is born.
Yes, it's an exciting time, and some women have even said to me that they miss being pregnant. But there are also a lot of things that can make nine months feel like forever.
Geez, where do I start? For me, not being able to play sports such as basketball was a real bummer, and not being able to run and surf toward the end of my nine months was also a drag.
But the things that really took some getting used to were the frequent trips to the bathroom (from the added pressure on your bladder from the baby), the leg cramps in the morning, not being able to sleep on your stomach (for obvious reasons) or on your back (because the baby presses on your inferior vena cava which can decrease circulation to your heart and your baby), the one cup of caffeine max a day rule and, of course, the weight gain.
And then there are the things that you really take for granted such as putting on a sock, or bending down to tie your shoes. Even something as simple as getting up from your bed in the morning is, well, not that easy anymore. Now, it's a roll-offand-up move while reaching for my dresser to gain my balance (remember those leg cramps).
And I still can't seem to remember to allow for more room when I'm closing doors - from bathroom stalls to my car door, and even the refrigerator door; my poor belly has been hit quite a bit of times.
And while I've always complained about tiny parking spaces at just about every parking lot on this island, it's a lot worse when you're pregnant. I mean there's just no way you can suck in your stomach to squeeze in between two cars and into yours.
And then there's the diet. No raw fish and no salty foods. Also, because of the levels of mercury in some fish, the Hawaii state Department of Health recommends eating ahi, ono or opah no more than once every two weeks; aku, canned tuna, cod, grouper, halibut, mahimahi, nairagi, orange roughy or pollock no more than once a week, and completely avoiding swordfish, Pacific blue marlin and shark.
That's a lot to remember, especially if you're a fish eater like me.
Oh, and we also have to remember the daily pre-natal vitamins, once a month doctor appointments which become once a week during your last month, trips to the lab for various tests, hours and hours of Lamaze and general newborn care classes, and daily moisturizing of the belly to prevent stretch marks.
I've also had to deal with extremely swollen ankles, which meant goodbye to cute heels and hello to flat slippers.
Fortunately I didn't have the morning sickness often associated with pregnancy. And I wasn't ordered to complete bed rest as some of my friends experienced.
However, I still have labor to look forward to, of which I'm completely terrified.
Don't get me wrong. I absolutely love children and can't wait to be a mom. But I just can't believe how stressful it's been, and the baby isn't even here yet.
After all this, there are still so many important decisions to make: What should we name the child, epidural or natural, breastfeed or formula, who's going to watch the baby, what do we buy for the nursery, Tinkerbell or Care Bears, choosing a pediatrician, etc.
While I have a few close friends with young children, I'm only now realizing how much work goes into being a parent.
I've grown a lot in the last nine months (both physically and mentally), but most of all I've gained a great deal of respect for moms, new and old. Plus some weight.
Most Recent Comment(s):