A Ride To Remember Zach Manago

By
.(JavaScript must be enabled to view this email address)
Friday - June 15, 2011
|
Share
Del.icio.us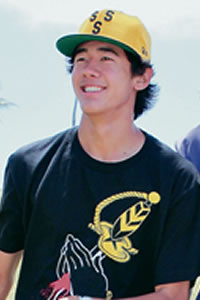 Zach Manago. Photo courtesy Daphne Manago
Hawaii Bicycling League (HBL) presents Zachary Manago's Ride in Paradise July 9 and 10 in memory of 18-year-old Zachary Manago, who was killed by a hit-and-run driver while riding his bike with a group of friends last December near Wheeler Army Airfield.
According to Manago's mom, Daphne, he had just started riding about four months before the accident.
"He rode someone's bike around one day, loved it, and the next day he was ordering one," she recalls.
A 2010 graduate of Moanalua High School, Manago had just started his freshman year at Hawaii Pacific University, where he earned a scholarship as a pitcher for the baseball team. But he never got to play a single game.
"He would ride his bike home (to Salt Lake) from HPU in downtown and to baseball practice at Keehi Lagoon," Daphne says. "He enjoyed it, and it was about exercise.
"On the last day of school, he and a group of 30 to 40 friends went to do a round-the-island bike ride (when the accident happened)."
Ironically, Manago had a vision of a more bike-friendly Hawaii and even wrote his final paper at HPU on it.
"The paper was 'Should Hawaii have more bike lanes?,'" says Daphne. "And he wrote about how he would be scared on the road. For us, I'm just hoping for more awareness and hopefully something can come out of it."
There is no entry fee for the upcoming Ride in Paradise, although pledges and donations are welcome for safety education.
Riders will be given bib numbers for identification, and a support vehicle will be available to help provide minor repair supplies, water, sports drinks and snacks.
The two-day island-wide bicycle ride starts at 7 a.m. July 9 at Zach's bike memorial in Wahiawa on Kamehameha Highway near Leilehua Road. From there, the route is about 68 miles going from Wahiawa to Waialua, around Kaena Point, through Waianae and Kapolei, then to Pearl City and finishing at the State Capitol at around 3 p.m. At the Capitol, there will be refreshments, speeches and free safety training rides offered to the public by HBL cycling instructors.
The next day, participants will meet up again at 7 a.m. at the Capitol and ride through Waikiki, Kailua, Kaneohe and Kahuku, ending in Haleiwa at Kaiaka Bay Beach Park around 4 p.m.
Cyclist and Canadian firefighter Rudy Pospisil will serve as lead rider, and participants do not have to ride the entire course.
"We just want Hawaii to be more bike friendly," says Sheika-Ann Ambatali, HBL volunteer coordinator. "We also want to raise funding to create a program to teach people how to drive and bike safely on the road, so we can prevent things like this from happening again."
HBL's mission is to get more people to ride bicycles for health, recreation and transportation through advocacy, education and events.
Register for Zach Manago's Ride in Paradise at hbl.org. For more information, email .(JavaScript must be enabled to view this email address) or call 735-5756.
Most Recent Comment(s):