A Sesame Street Health Lesson

By
.(JavaScript must be enabled to view this email address)
Friday - January 27, 2006
|
Share
Del.icio.us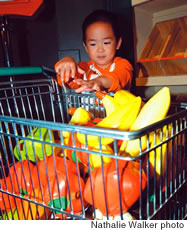 Jonah Kawamura learns to make
healthy food choices on a visit to
Sesame Street Presents: The Body
at Bishop Museum
Sesame Street isn't just for kids. On a recent trip to "Sesame Street Presents: The Body" at Bishop Museum, I discovered a few new fun facts on the human body and our health.
Most people may remember being taught some of these things by their mom, but it never hurts to be reminded of it at any age.
Fun facts for healthy living from the experts at Sesame Workshop (the nonprofit educational organization behind Sesame Street) and Thinkwell Design & Productions:
* Fruits and vegetables like carrots, broccoli, oranges and peas are really good for your eyes.
* Whole-grains keep your heart healthy, so eat plenty of whole-grain breads, cereals and rice for a healthy heart.
* Encourage children to try new healthy foods and don't be discouraged if they don't like them immediately. Research shows that it may take eight to 10 exposures to a food before children decide they like it.
* Fuel up on a healthy breakfast. Studies have found that children who eat breakfast every day perform better in school, have improved attention and memory, and are more likely to participate in physical activities and be healthier overall.
* You will lose more than 2,250,000 skin cells during your visit to "Sesame Street Presents: The Body," but don't worry, that's not even enough to fill a bottle cap. (yucky.kids.discovery.com/noflash/body/pg000146.html)
* The average person blinks 25 times per minute, which means that visitors to the exhibition will blink an average of between 1,500 and 2,250 times during their stay. (www.healthykidsplanet.com)
* An average person's heart beats approximately 80 times per minute, which means that while you're at the exhibit your heart will beat more than 6,000 times. (Source: The Straight Dope.)
* The human brain is 85 percent water. (www.corsinet.com/trivia/h-triv.html)
* When you sneeze, all your bodily functions stop - even your heart! (Useless Facts - facts.330.ca/)
* Ninety percent of all house dust is made up of dead skin. (www.newint.org/issue300/facts.html)
* There are 206 bones in an adult body, but a baby has more than 350. (educational-world.com)
* The human body has 650 muscles. (www.prongo.com)
* The feet contain 25 percent of all of the body's bones. (www.corsinet.com/trivia/h-triv.html)
* It takes 17 muscles to smile, but 43 to frown. (www.corsinet.com/trivia/h-triv.html)
"Sesame Street Presents: The Body" is an interactive, hands-on, multimedia experience that allows children (and adults) to explore and learn about the human body. The exhibit is at Bishop Museum now through April 2. For more information, call 847-3511.
Most Recent Comment(s):