A Short, Sweet Sweaty Workout

By
.(JavaScript must be enabled to view this email address)
Friday - March 12, 2008
|
Share
Del.icio.us
Robyn Fuqua begins her CrossFit workout with squats
Personal trainer Kimo Kockelman is offering free CrossFit classes at his new CrossFit Hawaii facility through the end of March.
CrossFit is the name for specific workouts that were first developed in Santa Cruz, Calif., to enhance the performance of professional athletes, mixed martial arts fighters, members of the military and individuals in professions such law enforcement and firefighters.
"CrossFit workouts are performance-driven, so you won't find isolation-type body building exercises," says Kockelman, who himself became addicted to CrossFit after being introduced to it at CrossFit Oahu eight months ago. "CrossFit exercises utilize multiple joint movements and muscle groups to improve your overall athletic performance. The emphasis isn't on aesthetics, but when you train like an athlete, you're going to look like an athlete."
Kristin Herrick continues the workout with push-ups
My first CrossFit workout consisted of four 20 second rounds of squats, push-ups and sit-ups with a 10-second break in between, followed a 600-meter run.
Sounds short and simple, but it's actually pretty intense.
"You can do as many or as little as you want to in those 20 seconds," says Kockelman. "But the goal is to give your best effort.
Robyn continues with sit-ups
"Also, the workouts can vary by doing as many reps as you can in a set or a set number of reps in a time, and it's not always 20 seconds. The workouts are random."
Robyn Fuqua took her first CrossFit class last week and says it was quick but tiring.
"My workout lasted 7 minutes and 58 seconds, and afterwards I felt kind of guilty like I should've gone longer," she says. "But when I got home, I was tired. And the next day I was really feeling it."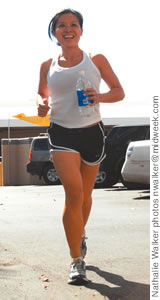 The author finishing with a run
CrossFit Hawaii is located in Powerhouse Gym (432 Keawe St.). Beginning April 1, classes will start at $99 per month (for a once-a-week membership). Other memberships include twice a week, three times a week or unlimited. For more information, you can e-mail Kimo at .(JavaScript must be enabled to view this email address)
Class times are 9 a.m., noon and 3 p.m. on Mondays and Wednesdays; 6 a.m., 11 a.m., 4:30 p.m. and 6:30 p.m. on Tuesdays; 6 a.m., 11 a.m. and 4:30 p.m. on Thursdays; 9 a.m., 12:30 p.m., 3 p.m. and 6:30 p.m. on Fridays; 9 a.m. and 10:30 a.m. on Saturdays.
More information and demonstrations of CrossFit exercises can also be found at www.crossfit.com
Most Recent Comment(s):