A Showcase For Healthy Babies

By
.(JavaScript must be enabled to view this email address)
Friday - September 22, 2010
|
Share
Del.icio.us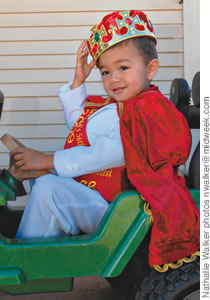 Healthy baby Ezekiel Antonio
Charity and Avin Antonio of Kapolei were not sure what to expect when they entered their son Ezekiel in the Meadow Gold Dairies Healthy Baby Contest last year, but the little 1-and-a-half-year-old was a natural on stage and beat out about 300 other babies to take home the crown, along with a $2,500 U.S. savings bond and other fun prizes.
"There was nothing to lose," recalls Charity on entering the contest. "The opportunity was there, and Ezekiel just shocked both my husband and I. We've never entered him in a contest like this before, and he actually loves the stage and the limelight.
"He was just an aloha baby. He was always happy and very friendly. He was never shy with anyone."
As for their secret to raising a healthy baby, Charity says it's unconditional love. The couple also have a 9-month-old daughter named Miracle.
"We just provide as much as we can as parents in the love, and the nurture and care for them," she says. "I think every child is born with its own personality, and it helps to teach your child right from wrong and what's good for them and what's not. And I think being so loved adds to that."
But as most parents will tell you, kids grow up fast, and the time has come for Ezekiel to pass on the crown to the next Healthy Baby.
Meadow Gold Dairies, in partnership with the Honolulu Chinese Jaycees, presents the 57th annual Healthy Baby Contest open to children on Oahu born between Dec. 9, 2007 and Jan. 9, 2009. Online registration ends Sept. 26 at lanimoo.com. However, walk-ins will be accepted at the two preliminary rounds (Oct. 16 from 10 a.m. to 1 p.m. at Pearlridge Uptown and Oct. 23 from 10 a.m. to 1 p.m. at Ala Moana Centerstage), and at Children and Youth Day Oct. 3 from 10 a.m. to 3 p.m. at the State Capitol.
"The purpose of the contest is to help bring awareness to teaching proper nutrition and eating habits to children at an early age in order to encourage proper healthy living as they get older," says Ashley Jenkins, event coordinator for Meadow Gold. "We believe now is the age where they're going to pick up on all their healthy habits and take it with them into their older years."
Contestants are judged on physical appearance, healthiness and personality, with each category scored on a 50-point scale.
"For healthiness, it's a child who has a healthy appearance - they don't look too skinny or too overly plump, and they look like they're in their proper height and weight range for their age," explains Jenkins. "For physical appearance, that kind of ties in with healthiness. For example, physically they look like they're well-rested and well-nurtured and taken care of."
From the two preliminary rounds, the field is narrowed down to 50 final-ists, with the finals held Oct. 31 from 10 a.m. to 1 p.m. at Ala Moana Center.
And because the finals happen on Halloween, there will be a costume contest for the finalists.
"We want them to show us in costume how their child is a healthy baby," says Jenkins.
The winner will receive a Meadow Gold gift basket, including a year's supply of milk.
The top 50 also will be part of an online People's Choice photo contest, where the public can vote for their favorite. The winner also receives a Meadow Gold gift basket and a year's supply of milk.
"We see everything from kids doing little dances to blowing kisses to the crowd or waving," says Jenkins. "Some kids have done little gymnastics moves with their parents and just showing what makes them such a healthy baby.
"We just want to see the kids in their natural environment and how they react to a crowd. They don't have to wear a costume or put on any little show. They just go on stage and show us their personality and what they're about.
"Last year's winner, Ezekiel, came out in this really cute white tuxedo, waving a Hawaiian flag, and I think just his exuberance and happiness to be there and his pride and aloha kind of really got the judges."
Charity, a stay-at-home mom, says she and Avin, a diesel technician for Cummins West, are "so proud of their son.
"When they announced him as the winner, we were so amazed and happy," she recalls.
Most Recent Comment(s):