A Special Christmas For Cancer Kids

By
.(JavaScript must be enabled to view this email address)
Friday - December 23, 2009
|
Share
Del.icio.us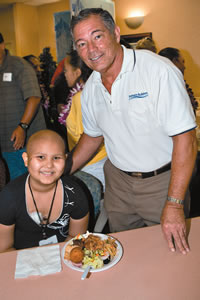 Kamalani Aetonu with Danny Graham
This year, Graham Builders hosted its 10th annual holiday party for the Hawaii Children's Cancer Foundation at Kapiolani Medical Center, providing food and collecting gifts for more than 300 children and their families.
"A friend of ours had a grandson who was diagnosed with leukemia," says Danny Graham, president and CEO of Graham Builders. "He beat it, but then it came back at age 9 and then he passed away.
"That's when we found out about the Children's Cancer Foundation. And then we found out that during Christmas the families were doing potlucks."
Graham couldn't bear the thought of a child having cancer, and after seeing the pain his friend's family went through, he wanted to help. So he decided that his company would organize a holiday party with food, presents and even a visit from Santa.
Presents were donated by Kalani Whitford and various sponsors, as well as Toys for Tots. There were even bicycles, skateboards, Boogie boards and surfboards.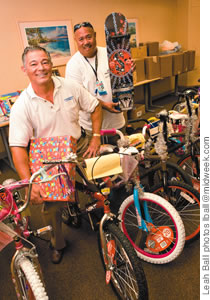 Graham with Kalani Whitford
"This party makes Kamalani happy," says Karen Aetonu, mother of 9-year-old Kamalani, who has acute lymphoblastic leukemia.
Kamalani was diagnosed with ALL at age 5, went through three years of chemotherapy treatments and then relapsed this past May.
"I like coming to this holiday party because I like seeing all my friends," says Kamalani.
In addition to the holiday party, Graham Builders collects donations at its free monthly seminars from attendees on a voluntary basis for HCCF. Then Graham matches all donations dollar for dollar. So far, about $9,000 has been collected with Graham matching that amount.
"As long as there are kids with cancer we're going to continue to help," he says. "Whenever I see a child with a catheter, I cannot imagine the pain they're going through. I would consider it to be unimaginable. I will never give up on them."
Most Recent Comment(s):