Ala Moana Seeks Runway Models

By
.(JavaScript must be enabled to view this email address)
Friday - March 09, 2011
|
Share
Del.icio.us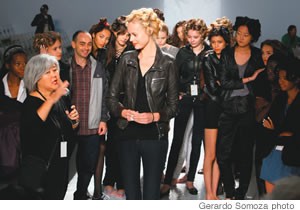 Lynne Hanzawa O'Neill instructs models on the runway
Calling all models. Take control of the runway with top New York Fashion Week producer extraordinaire Lynne Hanzawa O'Neill at two events - Catwalk 101 March 23 at 6 p.m. and Rules of the Runway March 26 at 6 p.m. - at Ala Moana Center as part of the mall's upcoming Shop a Le'a festival.
For Catwalk 101, Ala Moana Center is conducting an open casting call to select five aspiring models (male and female) to sashay across Centerstage and learn about the dos and don'ts of walking the runway from O'Neill herself. Interested participants should e-mail Katie Gardner at .(JavaScript must be enabled to view this email address) by March 16. Include your resume, age, measurements and a photograph (head shot and body shot).
Rules of the Runway also takes place at Centerstage, and is an intimate Q&A session with O'Neill. She will share her behind-the-scenes experiences and life lessons from the runway that she often gives as advice to model hopefuls trying to make it big in the world of fashion.
Born in Hawaii, O'Neill is a 30-year fashion show veteran who has become a fixture at New York Fashion Week. She lives in New York with husband Bobby O'Neill, but is in Hawaii usually twice a year and for two months at a time.
At New York Fashion Week just last month, O'Neill served as fashion show producer and director for about 13 shows, including for designers BCBG, BCBGMaxazria, Herve Ledger,Vivienne Tam, Perry Ellis, Simon Spurr, Luca Luca, Ports 1961 and others.
She also was the inspiration for Lynne Cameron, the fashion show producer portrayed by Margaret Cho in the unforgettable episode of HBO's Sex and the City, where Carrie Bradshaw falls face-first on the runway.
She also served as fashion show consultant for two episodes of Gossip Girl, as well as for the first season of Bravo's The Fashion Show, The Apprentice: Martha Stewart and Sex and the City: The Movie.
As for her top five tips for walking the runway:
* Come out strong and confident, not fast.
* Walk down the center of the runway, not off center.
* Walk thru the music, not to the music.
* Walk naturally, not with your hands on your hips (unless the designer tells you to do it).
* Walk at the same pace as the model in front, not faster or slower.
"Also, walk with your shoulders back and your head up, so the clothes hang properly on you," she adds. "And don't walk into each other on the runway which you can't imagine how many times that happens. Models walking into each other or they touch each other as they walk past each other on the runway."
In addition to her upcoming appearance at Ala Moana Center's Shop a Le'a, O'Neill is preparing for Miami Fashion Week which are swimwear fashion shows in July, the Best Buy Holiday Preview in September (she produced the two grand opening events for Best Buy in Iwilei and Aiea, as well as the DVD launch events for the Rolling Stones in New York City and Usher in Los Angeles), and she's doing preliminary work on the Spring 2012 menswear fashion show for Simon Spurr taking place this September.
Among the many things she enjoys about her job, O'Neill says she loves putting together a fashion show with all the different types of creative people and being part of the designer's team, directing the models during rehearsal the hour before the show begins, and of course, walking through the backstage entrance of the tents (Bryant Park and now Lincoln Center) and seeing all her friends every season.
"I don't usually have a favorite runway model," she notes. "If the models are in shows in New York, then they are most likely in shows in London, Milan and Paris, and are currently the top runway models for the season. And by the way, Lady Gaga, was the best walker in the Mugler fashion show in Paris (March 2)."
Ala Moana Center's annual Shop a Le'a, taking place March 21-27, celebrates global fashion trends, the joys of shopping and Hawaii's local design talent with a lineup of more than 100 exclusive in-store events, fashion shows, trunk shows, and shopping and dining offers.
For more information, visit AlaMoanaCenter.com.
Most Recent Comment(s):