Alicia's Regimen

By
.(JavaScript must be enabled to view this email address)
Friday - July 09, 2005
|
Share
Del.icio.us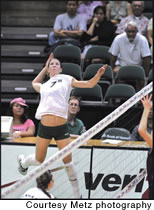 Good nutrition plays a role
in Alicia Arnott's amazing
success
For Alicia Arnott, nutrition and exercise are a way of life.
The University of Hawaii Rainbow Wahine volleyball player had a killer season last year, starting all 31 matches as the left-side hitter, and earning first-team all-WAC honors and honorable mention AVCA all- West Region honors.
So as the 2005 UH volleyball season approaches (first game is Aug. 26 at the AVCA/NACWAA Volleyball Showcase in Omaha), it's no surprise that volleyball fans are already talking about Arnott and her amazing talent.
But the junior has a lot to live up to. Last year, she averaged a team-high 4.09 kills per game, along with 2.96 digs per game and 0.51 blocks per game while recording 32 aces.
She earned all-tournament honors at the WAC Tournament, the Waikiki Beach Marriott Invitational and the Mauna Loa Macadamia Nut Volleyball Challenge. And she had her best match at Southern Methodist on Oct. 16, hitting .463 with 30 kills and 19 digs, becoming just the third UH player to ever hit over .450 with 30 kills in a match.
She also earned WAC Player of the Week honors on Oct. 18, had five matches with 20-plus kills and 20 double-doubles, and tied the school-record with six aces vs. Tulsa on Oct. 22.
So what's Arnott's secret to volleyball success? It may be partially credited to her healthy lifestyle. At 6 feet, 150 pounds, she's physically fit — and it shows.
"For me, being active is not difficult," she says. "It just comes natural. Once you get in the lifestyle, there's no craving for junk food or not working out. It comes second nature. I just feel better about myself when I wake up early and work out.
"Usually during the day I don't like sitting still at home, especially when the sun's out, which is basically every day. I'll go surfing with my friends, swimming with my dad, or play beach volleyball at the Outrigger Canoe Club. And I usually paddle with Outrigger every summer, but I didn't this summer. I have to say if there's a secret to cross training, it's paddling."
Her off-season workout routine: at least 30 minutes of cardio each day (usually running, biking or the elliptical), and going to the UH weightroom for training and conditioning exercises four times a week.
"During the season we lift three times a week after practice," says Arnott, whose lifting partner at UH is Victoria Prince. "In the off season, we're lifting four times a week with a strength coach. We usually meet in the morning, and we do two days a week of legs, and two days a week of arms."
Team members who are in Hawaii started mandatory training July 5 with their strength coach.
As for her diet, Arnott says it's a lot of carbohydrates, a lot of cereal, and a lot of fruits and vegetables. She's also a semi-vegetarian — she eats chicken and fish, but no pork or beef.
"Nowadays they have all the Atkins low-carb diets, but for me it's a lot of carbs and less protein," she confesses. "I can see people who aren't athletes cutting back on carbs, but it's the first source of fuel, so athletes shouldn't really be on low-carb diets.
"And I eat a lot of cereal. I snack on cereal all the time, and fruits and vegetables. I was the kid with the tuna sandwich on whole wheat and an apple, and I would be like oh, my gosh, can I have your chips? But I guess it just kind of stuck with me as I grew up."
A typical meal for Arnott: cereal (usually Wheat Chex) for breakfast, a sandwich (usually turkey or tuna on wheat) or a fruit smoothie and a fruit for lunch, and chicken breast or fish with vegetables for dinner.
As for her favorite place for food, it's Umeke Market in Kahala, where she says they have great smoothies, sandwiches and salads. And on road trips, Arnott says the team usually stops at a grocery store where she's able to load up on her daily dose of healthy foods.
"If you want to be healthy and feel good and energetic, that should be motivation enough," says Arnott, a 2003 graduate of La Pietra. "I'm pretty happy with the shape I'm in right now. But I do want to get stronger, jump higher and run faster. I want to increase my vertical. I want it to be at least 10 feet, which is the top of the antenna next to the volleyball net.
"And I think I need to expand my diet a little more. The most challenging thing about eating healthy is trying to find variety. It's hard to try to change it up every day."
Oh, and she has another volleyball secret: "When you're little, just focus on jumping. If you can jump, even if your arm swing isn't that good, you can be pretty successful."
.(JavaScript must be enabled to view this email address)
Most Recent Comment(s):
Commenting is not available in this weblog entry.