An Accident Leads To Positive Change

By
.(JavaScript must be enabled to view this email address)
Friday - February 10, 2010
|
Share
Del.icio.us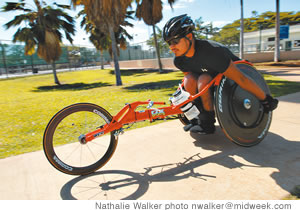 Masafumi Kobayashi trains for Monday's Great Aloha Run
Ten years ago, Masafumi Kobayashi was driving home from surfing in Japan when he lost control of his car and crashed into a wall, leaving him paralyzed from the waist down.
It was difficult to accept at first, he says of his condition, but he has since become a more positive, happier person. He even continues to do what he loves most, surfing, at his favorite spot, Ala Moana Bowls, almost every day.
Last December, in honor of his mom, who passed away in December 2008 from a subarachnoid hemorrhage, he entered the 26.2-mile Honolulu Marathon. Now he's training for the Kaiser Permanente Great Aloha Run, an 8.15-mile road race from Aloha Tower to Aloha Stadium on President's Day, Feb. 15.
"Before my accident I never thought about my friends or my family, it was always just about myself," shares Kobayashi, 30. "But after my accident, I changed. Before, I was a bad boy, I never listened to my parents. I did bad in school and didn't finish school, and I never said sorry to my parents. But when I was in the hospital, my parents were there, and I realized that no matter how bad I was to them they were still there for me. I said to them 'sorry, I'm so sorry,'and I cried and they cried.
"Now it's my family and friends first before myself."
Kobayashi, who moved to Hawaii in 2008 to study English at the University of Hawaii, trains with his racing wheelchair three to four times a week, going 10 to 15 miles around Diamond Head or near the airport.
When he surfs, he uses a regular 6-foot-2-inch surf-board, but catches and rides the waves (preferably 3- to 5-feet high) on his knees.
His goal at the Honolulu Marathon was just to finish. But he ended up doing very well, finishing in two hours and 15 minutes, and placing fifth in his division. For the upcoming Great Aloha Run, he hopes to finish in less than one hour.
"When I was at the marathon, it was so exciting," recalls Kobayashi. "I just kept thinking about my mom, and when I saw the people on the side cheer and clap for me, it gave me more energy. And then crossing the finish line, it felt so good.
"After my accident, I became a more peaceful person. I learned to be positive because when you're sad, down or think negatively, it doesn't do anything - it doesn't help anybody."
Kobayashi adds that by taking part in activities such as a marathon, the Great Aloha Run and surfing, he hopes people will see that whether in a wheel-chair or not, they can do anything.
Anyone interested in participating in the Kaiser Permanente Great Aloha Run can still sign up at the Great Aloha Run Sports, Health & Fitness Expo Feb. 12-14 at Neal S. Blaisdell Center Exhibition Hall. Registration fee is $45. For more information, visit http://www.greataloharun.com
Most Recent Comment(s):