An HPU Grad's $300 Million Firm

By
.(JavaScript must be enabled to view this email address)
Friday - February 09, 2011
|
Share
Del.icio.us
In 2003, Allen Artiss graduated from Hawaii Pacific University with a degree in journalism. Now, he's not working in a news-room, but rather making news himself.
In 2007, he took over Erina Co. Inc., founded by his father, Frank Artiss.
The multi-level network marketing company, with a reported wholesale corporate revenue of $300 million, offers health supplements, skincare products and household items.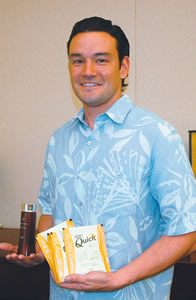 Erina president Allen Artiss
The company is headquartered in Tokyo and has about 500,000 distributors.
Last week,Artiss was back in Hawaii, along with 500 of his top sales agents, who were awarded a weeklong all-expenses-paid trip to the Islands.
"Twice a year, we take our top sales agents all over the world," says Artiss, who was born in Tokyo and lived in Hawaii during his formative years before moving back to Japan. "Last time it was in Shanghai, before that L.A., before that in Hong Kong and before that it was in Hawaii. We do Hawaii a lot. We've been to Hawaii over 20 times in the last 30 years."
In recognition of Artiss' outstanding leadership, and for his support of Hawaii's economy by bringing Erina's top sales performers here to attend its Achiever's Seminar, Mayor Peter Carlisle proclaimed Feb. 4, 2011 Erina Day.
"Any win-win situation is something I try to incorporate into anything we do," says Artiss. "Our people have a great time, they love Hawaii, the Hawaii economy gets a boost from it, and we're happy to be a part of it."
As for its products, Artiss says he first started using Erina when he was about 12 years old after he broke out with a "pizza face … I started using everything on the market except Erina, and then when I finally did use the gentle facial scrub, it actually worked."
Since then,Artiss also uses Erina's Royal Jelly treatment shampoo, facial cleanser, toothpaste, Beta Ginseng toner, eye gel and day cream, ABC meal replacement shake, Joint Joy and supplements daily.
"We receive so many testimonials for our products, but for me the most memorable thing is that I didn't get sick for five years," says Artiss. "Before I started taking the products, maybe once a year I'd come down with a fever and be sick for a few days, but for five years not once. Last year that streak broke when I got a 102 fever, but I was working a lot at that time."
Erina products can only be purchased through one of its agents in Japan. However, Artiss says there are plans to expand to the U.S., with the first stop in Hawaii and hopefully within the next year.
Artiss'siblings also are in the family business: brother Michael is executive vice president, and sister Sakiko is vice president. For more information, visit erina.co.jp.
Most Recent Comment(s):