Applying Makeup Like A Supermodel

By
.(JavaScript must be enabled to view this email address)
Friday - August 11, 2010
|
Share
Del.icio.us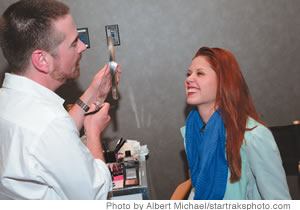 Victoria's Secret supermodel makeup artist Patrick Eichler with Anna Trebunskaya of Dancing with the Stars
OK, so we all can't be a Victoria's Secret supermodel. But, with a little "behind the runway" scoop, we can attempt to look like one.
In celebration of the new beauty section at Victoria's Secret in Ala Moana Center, the store will host a makeover with Victoria's Secret supermodel makeup artist Patrick Eichler Aug. 14 and 15 from 1 to 5 p.m.
There also is Man Behind the Scents with Victoria's Secret beauty vice president of fragrance Mark Knitowski Aug. 21 and 22 from 1 to 5 p.m.
Eichler, whose list of clients includes Victoria's Secret supermodels Alessandra Ambrosio, Adriana Lima and Candice Swanepoel as well as singers Alicia Keys and Missy Elliott, actresses Sienna Miller and Maggie Gyllenhaal and actor James Franco, will give super-model makeovers to customers who make a beauty purchase of $35 or more. Appointments can be made by calling 1-877-883-5794. Walk-ins also are welcome.
According to Eichler, the trend for the season is "a lot of darker, vamp looks with smoldering, feline eyes and wine-kissed lips."
"I think it's such a great look," he says. "I feel like it allows women to tap into a part of themselves that is very powerful."
He lists mascara as the No. 1 must-have beauty product for all women and an eyelash curler as the second.
And his best beauty advice, if he can only give one tip, is to at least once in your life have a professional makeup artist do your makeup.
"It can be life changing - yes, I said life changing - to be shown how beautiful you are," he says.
As for common mistakes women make when applying makeup, he says, it has to do with brush selection and balance.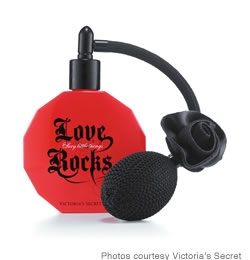 The latest scents from Victoria's Secret
"I see a lot of women apply blush or bronzing powder with a face-size brush, so of course their cheeks are a completely different color than the rest of their face," he explains. "I recommend a blush or powder brush to be no wider than two fingers for control of the color.
"Also, I think it's just a matter of positioning, but most women don't think about the forehead, cheekbones and chin, so all their makeup is smoothed into the center of their face. It's like shoving all your furniture into the center of the room! It's a good idea to turn left or right when looking into the mirror so that your makeup application is more three dimensional."
Now, for the backstage beauty secret.
"I have a very special way of lining the eye that is really an old Hollywood trick to make the eye look larger but still accentuated," notes Eichler. "When lining, with pencil or whatever, I line all the way across the top lash line tapering in toward the inner corner. Now when lining the bottom lash line, I start in the center, directly below the iris of the eye and swipe left to right without applying liner into the inner and outer corner of the eye.
"This technique allows the eye to remain "open" and look much larger."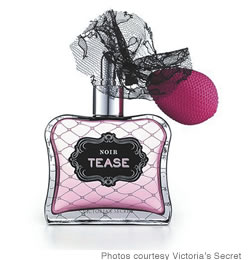 The latest scents from Victoria's Secret
In addition to makeup, Victoria's Secret Ala Moana's new beauty section also will feature a variety of fragrances, including the brand's new Love Rocks eau de parfum (winner of the 2010 FiFi Fragrance of the Year award) described as rock chick meets tres chic with a rebellious riff on vivid plum, hypnotic violet and sensual vanilla. Also new is the Noir Tease eau de parfum featuring an enchanting blend of black vanilla, frozen pear and blooming gardenia.
When shopping for a fragrance, Knitowski says to first spray it in the air to determine if you like it. Then, be sure to put the fragrance on your skin. Oftentimes women will take a recommendation from a friend or a fragrance they have smelled on someone else and liked.
"Everyone's skin has an effect on how the fragrance smells," notes Knitowski. "Skin creates a unique marriage with the fragrance that creates a personal aroma/smell that is distinctively you.
"Also, wear the fragrance for an hour to be sure you like how it smells on your skin over time. The fragrance will flash the brighter notes and leave the warmer notes over time."
When applying the fragrance, it should go on your pulse points, such as your wrists and behind the ears. And don't over-spray.
"Applying too much polarizes your nose and those around you," says Knitowski. "It's all about finding a balance that feels good to you and projects the fragrance in a positive, nonoffensive way."
If you're like me and use not just one perfume but rotate through a variety that end up lasting a long time, Knitowski says the best way to maintain the integrity of the scent is to store it in a cool, dark space, such as a refrigerator.
"This prolongs the impact of the different scent molecules over time to smell the same as when you originally purchased it," he explains. " The worst thing to do is to store it in direct sunlight or warm/hot temperatures. The fragrance oxidizes and breaks down, and much of the initial impression of the scent is lost, leaving more of background."
As for whether or not a certain scent attracts men or women more than another, Knitowski says there are some "smells" that are more popular than others.
"Definitely (with scents that attract men), what we have seen (and smelled) from spending time with some of the top fragrance houses, fragrances that contain notes such as vanilla, musk and specific florals seem to 'enhance your appeal' more than other fragrance notes," he says.
"(For scents that attract women) musk is always a popular scent but every woman is attracted to a different scent by nature. Whether it's a scent that reminds her of a special memory or just the way it smells, attraction is attraction and everyone has a different one."
Most Recent Comment(s):