Athletic Actor

By
.(JavaScript must be enabled to view this email address)
Friday - July 28, 2006
|
Share
Del.icio.us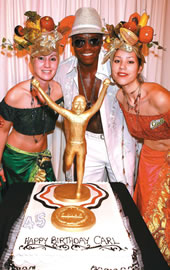 Carl Lewis, who celebrated his
45th birthday on July 1, visits
Hawaii this weekend for the
Victor Awards at the Hilton
Hawaiian Village
Nine-time Olympic Gold Medalist Carl Lewis will be among a dozen honorees at this year's Victor Awards XL to be held at the Hilton Hawaiian Village Saturday (July 29).
At age 45, Lewis still looks as fit as an Olympian. However, his training is nowhere near his days as a professional athlete. In fact, it would be rare for you to find him on the track.
Since retiring from the sport in 1997, Lewis has traded in his spikes for the big screen. Currently, he plays a reporter in the film Material Girl to be released in theaters next month.
He's also in an independent film called Last Adam, which opened in Atlanta and is now at the film festival in Miami.
He's also in a movie short to be screened in August, has two TV projects in development, and owns a production company, the Carl Lewis Entertainment Group.
"I enjoy acting very much," he says. "It's something I've planned on doing for a long time."
You can also catch the health advocate in a McDonald's commercial running on TV right now. Yes, you read right, McDonald's.
"One of the great things about McDonald's is that they realized they needed to have a healthier menu mainly because of the kids who eat there," says Lewis, who is also sponsored by Nike and Swatch. "Now, they have a variety of salads and a baked chicken sandwich."
In addition to his acting career, Lewis is also busy with his charity the Carl Lewis Foundation.
"The purpose of the foundation is to help create awareness of issues like childhood obesity, and then getting families together and active," explains Lewis. "Childhood obesity is out of control. There is a tremendous amount of kids that are sedentary and because of that will get diabetes. Right now about a third of the kids in the United States will become diabetic, which is ridiculous. And the solution is definitely diet and exercise.
"I believe if kids are taught at a young age to exercise and eat properly they'll grow up healthier and live a healthier lifestyle.
"Also important to me is organ donation. There are about 90,000 people in the U.S. on the waiting list, and it continues to grow. I have a friend who received a liver transplant, and my hope is that every person who needs an organ has an organ."
Lewis, who was born in Alabama and raised in New Jersey, currently resides in Los Angeles and Houston.
To stay fit, he trains in his home gym four times a week. He also likes to play beach volleyball, run outdoors and walk his four dogs.
He also uses the medicine ball and does a whole series of exercises with it which he learned from his strength
coach at the University of Houston.
"My workouts now are no different than what the average person would do for fitness and health," says Lewis. "In the gym I lift weights and use a stationary bike.
"I guess one thing I do differently is people usually work out on different areas of their body on different days, but I work on my entire body every time I'm in the gym."
As for his diet, Lewis, who stands 6 feet 3 inches tall and weighs 195 pounds, avoids dairy products, red meat and pork.
"I'm not a big meat eater, because it just makes me feel healthier and better," he explains. "Also, I'm not big on sweets. But I do love french fries."
Lewis, who was named World Athlete of the Year in 1982, 1983 and 1984, World Athlete of the Decade for the 1980s, U.S. Athlete of the Year seven times, Olympic Athlete of the Century and a U.S. Olympic Team member five times, says his goal now is to become a successful actor and producer.
"I haven't had one moment since I retired that I wanted to come back," he says. "Some of my records are gone and some still stand. As an athlete, I've had a great career and a long line of success.
"And I was part of change. I spoke out about drug testing way back in the 1980s. I was actively involved in incorporating drug testing. I just knew that if we didn't get a hold of it we would get invaded by this problem."
Other athletes to be honored with Lewis (and appearing live on stage or by videotape) at Saturday's Victor Awards XL include Muhammad Ali, Joe Namath, Willie Mays, Gordie Howe, Rick Barry, Chris McCarron, Jackie Joyner Kersee, Mark Spitz, Bruce Jenner and John Wooden, and broadcaster Dick Enberg.
There will also be a salute to the gold medal winners from the 2006 Torino Winter Olympics and to several star athletes with "magical moments" from past Olympic Games.
Fox Sports Net will televise the one-hour primetime special hosted by Chris Meyers beginning Saturday, Aug. 5 with additional air dates to follow.
Most Recent Comment(s):