Attacking Asthma

By
.(JavaScript must be enabled to view this email address)
Friday - August 04, 2006
|
Share
Del.icio.us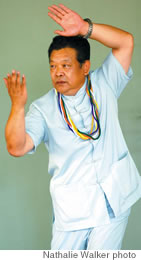 Grandmaster Hong Liu
Anyone with lung-related problems such as asthma, allergies, chronic bronchitis and/or sinus problems, is invited to a free asthma humanitarian event on Aug. 19 at the Qi Center-Honolulu (1110 University Ave. ground floor).
Presented by the Natural Healing Research Foundation (NHRF), grandmaster Hong Liu, the Qi Center-Honolulu and the University of Hawaii John Burns School of Medicine, Department of Complementary and Alternative Medicine, the event offers special natural foods and recipes, information on reflexology points and energy-based exercises.
According to NHRF, there are more than 100,000 asthma sufferers in Hawaii, and more than half are children and native Hawaiians.
"Generally people who are taking asthma and allergy medications are on them for a long time, but it does-n't really address the root level of the problem," says Hong Liu, a grand master of qi gong (the highest attainable level of training) for the last 35 years. "The way that natural healing views asthma and allergies is different, and the approach is going to be different."
Grandmaster Hong lists the main causes of asthma as genetics, environmental pollution and side-effects of certain medicines.
"There are also external factors, such as pollen or food allergies, like peanuts, but what natural healing addresses is what we refer to as the internal factors,"
explains Liu. "It's going to the root level of the problem, and that internal factor or culprit is cold energy that gets into the body and forms a blockage that can't be moved out."
There are also external factors that can aggravate the problem, such as mites in the carpets or floors, but why is it that only some people are affected when exposed to it and not others?
The answer, according to grandmaster Hong, is whether or not that person has that cold energy in their body.
Following the lunar calendar, grandmaster Hong says Aug. 19 is believed to be one of the hottest days of the summer. That hot temperature, he feels, will help move the cold energy through and out of the body.
"At our event, we'll be putting an herbal patch on three specific points of the body to draw out this blatant cold energy that's stuck in the body," he explains. "In addition to the patches, we will also share medical qi gong exercises, herbal supplements, recipes and reflex-ology.
"Part of the mission of the Qi Center is to provide people with these self-healing techniques to complement the work they do with their doctor. It's not alternative, it's complementary. It's self-healing tools that they can use virtually anywhere in their home."
The free Asthma Humanitarian Event has been held for the past two years with more than 1,000 asthma and allergy sufferers attending last year's fair and an overall effectiveness rating of 81 percent.
This year, events were also held on July 20 and 30. For more information or to register for the free Asthma Humanitarian Event on Aug. 19, call 947-1333.
Most Recent Comment(s):