Avoiding Cancer

By
.(JavaScript must be enabled to view this email address)
Friday - March 10, 2006
|
Share
Del.icio.us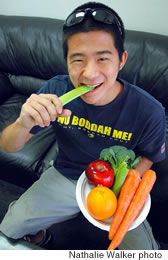 Micah Kagihara munches on a
celery stick because studies
have shown that eating five
servings of different vegetables
and fruits per day reduces the
risk of developing cancer
For the first time, the University of Hawaii Cancer Research Center of Hawaii is holding a free public information meeting on Wednesday, March 15, with local doctors and researchers speaking about cancer and cancer-related topics.
Cancer is the second-leading cause of death in Hawaii, and speakers hope the conference will help spread cancer awareness, such as early detection and what treatments are available.
"Cancer strikes people at any age - children, mid-age and older age, everybody," says Dr. Carl-Wilhelm Vogel, director of the Cancer Research Center of Hawaii. "But it is predominantly a disease of older age, meaning the older you get, the higher the risk.
"Also, our demographic is such that the percentage of people older than 65 years of age is increasing rapidly, and therefore the total number of new cancer cases is also going to significantly increase. As a matter of fact, the prediction is that there will be a doubling of cancer cases in the next 25 years."
The conference will provide a short overview of various cancer issues, including information on upcoming plans for a new comprehensive cancer research and treatment center in Kakaako. Construction will take place on a 5 1/2-acre lot ewa of the new UH medical school.
"The important thing is that it's not only an expanded research center, but it will be a clinical facility where patients will be seen for evaluation and treatment," adds Vogel. "We hope to have ground-breaking within a year, and we expect it to be done within the next three years."
There also will be information on mammograms, cancer in children, the genetics of cancer, and the advantages of having the Hawaii Tumor Registry.
"One of the important aspects of the tumor registry is that we know we all get cancer, but different ethnic groups in our state have vastly different risks of developing cancer in different organs," explains Vogel. "For example, Filipino women have by far the highest risk of getting thyroid cancer. And Hawaiian women have the highest risk of developing breast cancer. And Japanese have the highest risk of developing stomach cancer. Those are things we learn from the tumor registry."
The Cancer Research Center of Hawaii is one of only 61 National Cancer Institute-designed cancer centers throughout the United States. It recently received national media coverage when a study
it led found that moderate smoking of less than 10 cigarettes a day caused a much higher risk of developing lung cancer in Hawaiians and African Americans compared to any other ethnic group.
"That study shows two things - that there may be an ethnic predisposition for certain cancers, and also how important it is for our state to have a cancer research center because we address questions that are of particular importance for our multi-ethnic population," notes Vogel.
At Cancer Research Information Day, you can get all your cancer questions answered, and even discover ways to fight the disease.
"Studies have shown that eating five servings of different vegetables or fruits per day reduces the risk of developing cancer," advises Vogel. "Preferably vegetables and fruits of different colors. And the most important thing is do not smoke, because that is the No. 1 lifestyle factor that causes many cancers."
The event is free and open to the public. Presentations will run from 9 a.m. through 3 p.m. at the Queen's Conference Center, located at 510 S. Beretania St. Seating is on a first-come, first-served basis.
Limited parking is available at Queen's Medical Center, $5 validated parking at Miller Garage (located at the corners of Punchbowl, Vineyard and Miller streets), or metered parking on Punchbowl Street. For more information, call 275-3020.
Schedule of presentations: 9:05 a.m. Intriguing research in childhood cancers
9:35 a.m. Tracking cancer incidence in Hawaii
10:05 a.m. What makes a good cell go bad: understanding cancer
10:35 a.m. Your family cancer history doesn't have to be your destiny
11:05 a.m. High lung cancer rates among Hawaiians
11:35 a.m. Cancer information at your fingertips
11:55 a.m. Kakaako's new cancer center
12:35 p.m. Cancer control measures to reduce smoking and lung cancer incidence
1:05 p.m. The benefits of clinical trials participation
1:35 p.m. The link between obesity and cancer
2:05 p.m. Will mammograms improve my chances of finding breast cancer early?
2:35 p.m. Melanoma: The dead-liest skin cancer
*Each presentation will conclude with 10 minutes of Q & A.
Most Recent Comment(s):