Avoiding Skin Cancer

By
.(JavaScript must be enabled to view this email address)
Friday - June 09, 2006
|
Share
Del.icio.us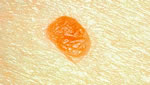 Above, a normal mole and
below, melanoma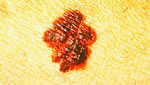 In Hawaii, sun protection is a daily must all year-round. But now that summer's here, it's time to really stock up on those bottles of sunblock as everyone is just itching to be outdoors.
"The most common forms of skin cancer are linked to cumulative sun exposure," says Terrilea Burnett, Ph.D., project director-Cooperative Family Registry at the Cancer Research Center of Hawaii. "So, people who live in a geographic area where they're exposed to the sun every day would be at a higher risk for eventually developing skin cancers."
Whether it's 15 minutes, a couple of hours or a whole day in the sun, just a few minutes of applying sunblock before you leave your house can save you from getting skin cancer. And don't forget your keiki as sun damage really starts in childhood.
"Parents should make sure, No. 1, that their child never gets sunburned," advises Burnett. "Sunburns in childhood are linked to a higher incidence of skin cancer in adults."
The two most common types of skin cancer are basal cell carcinoma and squamous cell carcinoma. Both are associated with cumulative sun exposure, which means people who have had 70 years of cumulative sun exposure would be more at risk than someone who has had 20 years of cumulative sun exposure.

Dara Fukuhara gets a skin cancer screening by Dr. Jenny
Stone
The third most common, and the more serious form of skin cancer, is called melanoma. According to Burnett, the cause of melanoma is less clearly understood than in other types of skin cancer, but it's thought to be associated with intermittent periods of intense sun exposure.
"No one knows the exact number of basal cell and squamous cell carcinomas diagnosed each year in the state of Hawaii because these skin cancers are not reported to the state tumor registry," says Burnett. "However, it is projected that approximately 160 melanomas will be diagnosed in the state in 2006 (from the 2006, American Cancer Society Inc., Surveillance Research).
"Virtually all skin cancers are curable if detected early, and the good thing about skin cancer is you can see it, so everybody has a chance to go in early if they are observant of what's on their skin."
Here are some warning signs of skin cancer (according to Burnett):
1) Any change on the skin, such as a new growth or a change in an existing spot on the skin.
2) A sore that doesn't heal, especially one that bleeds or forms a scab.
3) The development of a pink, pearly waxy bump.
4) Presence of a flat, pink patch that is rough or scaly, and may be sore or itchy.
5) A change in the size, shape or color of an existing mole.
6) Development of a new flat or raised spot that has multiple colors (such as tan, pink, brown, or black), is irregular in shape, and is larger than the eraser on the end of a pencil.
"Melanomas can occur on sun-exposed areas, including the face, trunk, and extremities, but are also observed on areas that are less exposed to the sun, including the palms and soles of the feet, between toes or fingers, under fingernails, on protected areas of the trunk, and on the scalp," notes Burnett. "Rarely, melanoma develops in internal areas of the body.
"If a person has something they're concerned about, then they should go to their physician and have it checked. And if they have any questions about what their family physician says, then they should make an appointment with a dermatologist, who is trained to identify and treat skin cancers.
Ways to prevent skin cancer: 1) Use sunblock! Yes, it really does work! Select one that protects against UVA and UVB. Also, parents should choose one that is approved by their pediatrician.
2) Avoid peak sun hours (10 a.m. to 3 p.m.)
3) If you're planning to spend "heavy duty" time in the sun, go for at least a 30 SPF sunblock.
4) Sunblock should be applied before you leave the house, so it's completely absorbed into the skin by the time you get to the beach or in the sun.
5) Be aware of reflected ultra-violet light.
"The biggest myth is thinking that being dark pigmented or having a dark complexion is going to prevent you from getting skin cancer," adds Burnett. "That's not true. If you live long enough in Hawaii regardless of what your ethnic background is, you're at risk for developing skin cancer.
"Also, along with use of sun-screen and limiting sun-exposure to early morning or late afternoon, it is advisable to use sunglasses with a UV filter that blocks UVA and UVB radiation. Chronic sun exposure can cause damage to the eyes."
Next week: Treating haole rot.
Most Recent Comment(s):