Balancing Sweets And Workouts

By
.(JavaScript must be enabled to view this email address)
Friday - October 13, 2010
|
Share
Del.icio.us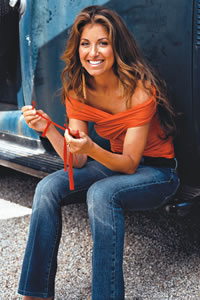 Dylan Lauren: Moderation is key for candy lovers
How does someone who is known as the Candy Queen stay so skinny? Dylan Lauren, founder of Dylan's Candy Bar, says she does it by enjoying sweets in moderation and exercising regularly.
Lauren, daughter of legendary fashion icon Ralph Lauren and author Ricky Lauren, will be in Hawaii Oct. 17 for a special appearance and book signing at Neiman Marcus Ala Moana. The event takes place from noon to 2 p.m. in the epicure department, level three.
Her new book, Dylan's Candy Bar: Unwrap Your Sweet Life, features mouthwatering candy recipes and inventive candy craft ideas that will appeal to the young at heart, the candy enthusiast, the fashionista, the Pop Art aficionado and anyone interested in living the sweet life.
"I always eat candy and I love to work out," says Lauren. "I love Marshmallow Fluff, marshmallow divinity, red gummy bears, Swedish Fish and red licorice. Those are my favorites."
Lauren confesses she eats candy every day, but says she controls the amount she eats by not buying as much at one time, and by packaging it in portions.
She also stays active by running six to eight miles three to five times a week, depending on the season and where she is. "If I'm in a setting like Hawaii, I'll probably run more," she explains.
She also works out with a trainer three times a week, plays some tennis, enjoys hiking and goes aquajogging.
"Michelle Obama and her kids were in my store, and she's a big advocate against obesity," says Lauren. "But she came in and bought a little bit in moderation, and also found candy clothing and candy jewelry. We don't just sell candy to eat, so you can still enjoy it no matter what.
"And I think that's important that we provide a whole lifestyle of sweets, not just candy."
Dylan's Candy Bar stores are located in New York City, East Hampton, Roosevelt Field, Orlando and Houston, as well as in prestigious wholesale venues around the globe.
"I was looking at opening a store in Hawaii," she says. "One day, I definitely want to be there."
For more information, visit DylansCandyBar.com
Most Recent Comment(s):