Beach Ball

By
.(JavaScript must be enabled to view this email address)
Friday - November 04, 2005
|
Share
Del.icio.us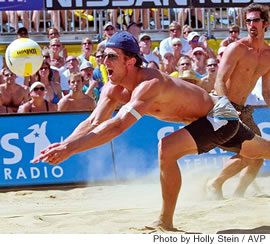 Kailua native Sean Scott is an AVP
champ: 'Keep the ball flying'
Sideout! I've recently developed a love for beach volleyball. I'm not good at it. I don't even know all the rules. But I love watching and playing it.
Before this year, I never really paid any attention to the sport. While channel surfing one night, however, I caught a match featuring 2004 gold medalists Misty May-Treanor and Kerri Walsh, and I was hooked. But it's the local boys and girls on the AVP Tour that I most admire - Sean Scott, Stein Metzger, Mike Lambert, Scott Wong, Jason Ring, Kevin Wong, Tanya Fuamatu-Anderson and Heidi Illustre.
Last month, Windward native Sean Scott and partner Todd Rogers won their third consecutive 2005 AVP tournament at the Paul Mitchell Best of Beach held at Queen's Beach in Waikiki. "This is my home and I love coming back here and doing well," says Scott, who grew up in Enchanted Lake.
A graduate of Punahou School, Scott played volleyball for the University of Hawaii from 1992 to 1995. After graduating from college, he shifted his talents to the sand, and now makes a living as a professional beach volleyball player.
"I like the fact that beach volleyball combines all the skills of indoor volleyball - passing, setting, spiking," says Scott, who currently lives in Redondo Beach, Calif. "You must be a well-rounded volleyball athlete to have success in the sand.
"Beach volleyball improves your leg strength from running and jumping in the sand and it improves your anaerobic capacity from all of the short rallies. Also, if you spend a day at the beach playing volleyball you will sweat a lot and burn a ton of calories."
According to Fitlinxx, there are 800 million people who play volleyball worldwide. It's also the second most played participatory sport in the United States.
"The best way to get involved and play volleyball is by joining the AVPNext Program," says Keith Dobkowski, director of Grassroots Marketing for the AVP. "AVPNext is the official developmental program for the AVP Pro Beach Volleyball Tour. It sanctions a wide variety of outdoor camps/clinics for all ages and abilities."
Wayne Renshaw serves as the AVPNext promoter on Oahu, running both indoor leagues and outdoor events focusing on children. (For more information, e-mail .(JavaScript must be enabled to view this email address))
"Beach volleyball is a great sport because it is for people of all ages," says Scott, 32. "It's traditionally played with two players on a side, but that number can be increased depending on your skill level to facilitate the rallies of beach volleyball that everyone loves so much.
"You can also play one on one with a shortened court for a great workout. Adjust the number of players and/or the court size and keep the ball flying."
Most Recent Comment(s):