>Beauty Begins With Good Skin

By
.(JavaScript must be enabled to view this email address)
Friday - June 18, 2008
|
Share
Del.icio.us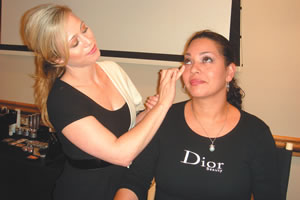 When working around the eyes, use your ring finger for less pressure
Women usually don't like to be told that they look older than they really are.
So when people tell me how old they think I am and it's way more than my real age (and it happens a lot), they quickly "cover up" with something like, "Oh, it's just that you seem so mature for your age."
Too late! But it's OK. I've come to accept that physically I've aged much faster than the clock ticks. I blame the many hours of surfing with no sunscreen during my teenage years, the stresses of life, and, OK, I admit it, my not-so-perfect daily skincare routine. Yes, I do fall asleep with my makeup on.
And while there are amazing products out there that can cover the dark circles and bags under my eyes, I would rather they just go away.
"At Dior, we believe makeup is designed to celebrate beauty, not create it," says Krista Gonzalez, Dior education manager. "And good makeup begins with good skin. In our business there are no overnight, quick fixes. You have to commit to your skincare. And that starts with good cleansing."
Gonzalez stresses the importance of using a cleanser designed for the face as opposed to a heavy bar soap. Our skin is covered by a protective layer called hydrolipidic film, which helps to fight off bacteria and infection, and harsh soaps can strip that away.
Another important step to good skin is not to sleep with your makeup on.
"Sleeping with your makeup on can lead to clogged pores, and you're not giving your skin the opportunity to apply skincare," says Gonzalez. "Every time you do your skincare ritual, you're empowering your skin. Also, by sleeping with your makeup on, you dirty your pillowcases, which is not good, especially if you're prone to breakouts."
It's also important to take extra care of the skin around your eyes, as this is the first place to show signs of aging. One tip from Gonzalez is to use your ring finger when applying eye products to the eye area.
"Your eyes are thin, delicate and age quicker," says Gonzalez.
"Your ring finger is the weakest finger of all fingers so you can't help but apply less pressure."
In the next On The Move, Gonzalez shares some of her backstage secrets, more skincare tips and her favorite Dior must-have products.
Most Recent Comment(s):