Beauty No-nos, Musts, Secrets

By
.(JavaScript must be enabled to view this email address)
Friday - July 02, 2008
|
Share
Del.icio.us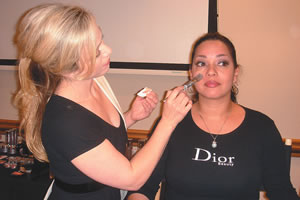 In the last On The Move, Dior education manager Krista Gonzalez shared her advice on achieving good skin: commit to a good skin-care routine, use a cleanser designed for the face, do not go to sleep with your makeup on and use your ring finger when applying eye products to the eye area.
This week, she shares her beauty no-nos, backstage secrets, more skin-care tips and her favorite Dior must-have products.
"I think the biggest makeup mistake people do is they try to hide their imperfections instead of really playing up what is already perfected," says Gonzalez. "For example, if it's a blemish, they'll work hard to conceal it but end up drawing more attention to it.
"As for the biggest skin-care mistake, I think people often forget the importance of exfoliating. When you exfoliate, you're lifting away dead skin cells, revealing newer, brighter skin."
Gonzalez notes one of her backstage secrets is using a foundation brush instead of a sponge.
"With a foundation brush, you're saving half of your makeup," she explains. "Sponges are porous, which means it's absorbing half of your makeup and half is going on your skin. You might as well take half of your makeup and squirt it in the trash."
Gonzalez adds that people also tend to overuse their products and they also often forget about the back of their neck.
Also, rather than sweeping upward (as I'm sure most women do when applying skin-care products), at Dior, they sweep down the neck. "It encourages drainage for decongestion," she explains.
And don't forget to include a serum in your skin-care routine. Serums are a pure treatment, not a moisturizer or a concentrate, so they penetrate deep down into the skin and get you to your goal of healthy skin more quickly.
Living in Hawaii, our skin is constantly exposed to a variety of damaging conditions such as the sun, humidity and saltwater.
If you have dry skin, the right amount of humidity can be good. However, if you have oily skin, humidity can cause oil glands to overproduce.
"Humidity can cause us to sweat, and you want to avoid sweat from drying on our skin," adds Gonzalez. "If possible, you should quickly absorb any sweat on your face as fast as you can."
Dehydration can also affect the way your skin looks - usually appearing fatigued and not as radiant.
Gonzalez says that more than 80 percent of us women can be dehydrated at any given time. One way to detect if you're dehydrated is to get a tissue, place it against your lower cheek and push up. If your skin shows little wrinkly lines similar to what party streamer paper looks like, chances are you're dehydrated.
There are many different causes for dehydration, such as your diet, travel or medication. Gonzalez suggests treating this with a hydration mask.
Here, Gonzalez shares some of her must-have Dior products:
* Dior Capture R60/80 Wrinkle Eraser Kit ($130)
This at-home microdermabrasion kit includes products used to exfoliate the skin, boost its re-oxygenation and continuously release anti-wrinkle ingredients. It also includes the Capture R60/80 Finish UV with SPF 35.
* Dior Cleansing Water For Face and Eyes ($29)
This is a must for busy, on-the-go women. For those nights where you just want to go straight to bed, this serves as a great night-stand cleanser and makeup remover in one that quickly dissolves your makeup. It's also good for trips, the gym or weekend getaways.
* Dior Diorshow-Black Out mascara ($24)
This mascara features a deep kohl-black shade that makes the whites of the eyes clearer and the brights brighter. Backstage beauty tip: "Apply the original Diorshow Mascara first for length, thickness and curl, and then top with Diorshow Blackout to double the drama."
Most Recent Comment(s):