Being Cold Won't Give You A Cold

By
.(JavaScript must be enabled to view this email address)
Friday - December 22, 2010
|
Share
Del.icio.us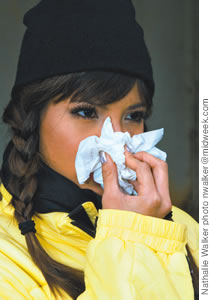 I have a habit of going to bed with my hair still wet from the shower, despite constant scolding from my mother that it'll cause me to get sick.
She also likes to remind me to not forget my jacket or I might catch a cold. But being the forgetful person I am, and always in a rush, I usually never have one with me. I know her intentions are good, but Mommy dearest, the doctor says I can't catch a cold from wet hair or cold weather.
"The common cold is caused by viruses transmitted typically by hand contact," explains Dr. Gerard Akaka, vice president, Medical Affairs, and chief medical officer at The Queen's Medical Center. "Also, there can be droplets in the air after coughing. Usually there has to be some way for the virus to get from the ill person to the one who's going to touch the doorknob or shake their hand, and then someway, somehow get it to their mouth, nose or eyes. That's how it enters a person's body and the virus starts to incubate.
"So, if a person gets sick, it's probably because they came in contact with someone who had the virus."
According to the online information site UpToDate, "There is no scientific basis for the popular notion that a cold climate increases susceptibility to respiratory illness. As an example, investigators working in a research base in Antarctica noted that the frequency of colds was equivalent in men finishing six months of isolation and men arriving from the United States to begin their Antarctica residence."
While being in the cold weather might not give you the common cold, exposure to cold temperatures may result in hypothermia, which is defined as a body temperature below 95 degrees Fahrenheit or 35 degrees Celsius.
Signs of mild hypothermia include rapid breathing, rapid heart rate, initial hyper-ventilation, unsteadiness, slurred speech, impaired judgment, shivering and increased urination.
Someone who has mild hypothermia should have any wet clothing removed and be covered with blankets or other types of insulation.
"I know there were times in my life when I had been in the rain and I had been cold and I've been fine, and other times I was in the rain and cold and I've gotten sick," adds Akaka. "With that being said, I think it's wise and prudent to not be playing around in the rain or exposing us to the cold unnecessarily. I think (the thinking of getting a cold from the cold) had to have come way, way back before the discovery of bacteria and viruses. I can only speculate if there was a trend in the cold season, which is also the cold and flu season, that people would have had to try to explain it the best they can."
So again, the way we catch a cold is by catching a virus from someone who is sick, and most times we pick up the virus on our hands. That's why it is important to wash your hands, especially if you're sick.
Most Recent Comment(s):