Beyond Stand Up Paddling Hype

By
.(JavaScript must be enabled to view this email address)
Friday - August 20, 2008
|
Share
Del.icio.us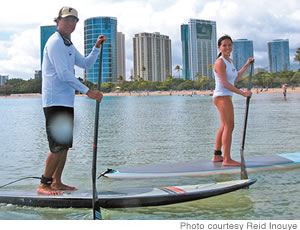 Reid Inouye, left, and the author at Ala Moana Beach Park
Everybody seems to be stand up paddling these days. Even my friends who have never owned a surfboard are doing it.
So, of course, I wanted to know what the hype was all about. But I was definitely not ready to spend the $1,400 to $2,000 it costs for a complete stand up-board package.
Instead, I tested out a workout program by Reid Inouye of Paddle Core Fitness. The company provides all the gear for you and, more importantly, the knowledge on how to stand up paddle, as well as different techniques to get your body in shape.
"Stand up paddling is considered a hybrid of surfing," says Inouye, who also serves as the publisher of the soon-to-be released Standup Paddle Magazine, co-publisher of Heavywater Magazine and producer of Heavywater TV. "And guess what? Stand up paddling has been around even before the whole surfboard era. I saw some old, old movies of Duke Kahanamoku stand up paddling on an old wooden surfboard."
Inouye credits the recent spike in popularity of stand up paddling to the people in the industry, including big-name surfers such as Laird Hamilton and Brian Keaulana, who have been seen and photographed doing it, as well as the fun element of the sport itself.
"Also, when this whole thing kick-started about a year ago and the first wave of people started paddling, they started losing weight," adds Inouye, 52. "Anybody who can walk with no difficulty can do this. At Paddle Core Fitness, 98 percent of the people we've taken are from 8 to 81 years old, and all non-surfers got up in five to 10 minutes and paddled for at least 40 minutes to an hour."
Before you step in and onto the water, here are a couple of things you should know about stand up paddling, according to Inouye: * If you think you're going to lose weight just by paddling, you are in for a rude "fad" awakening. Learn how to paddle correctly and learn how to eat correctly as well. Weight loss comes from exercise and diet. * Learn paddle etiquette. "In flat water, I see all these people paddling blindly through the swimmers, especially during sundown, when the glare is blinding," explains Inouye. "Wear protective UV glasses and watch where you paddle. Swimmers should always have the right of way - you can see them, they can't see you."
If you're in the surf, Inouye says a good ratio to follow is one wave per every two sets when there's a good crowd. * Pick up trash in the water. All those plastic bags that get blown out to sea can be seen while you're paddling. If you see one, stick it in your swim trunks or swimsuit.
I love to surf, but now that I've tried stand up paddling, I'm now saving up for a board and paddle.
I personally like that I can go out when it's flat, which also opens up the number of places I can go, and I love the physical benefits. After my one-hour workout, my muscles were burning for the next two days.
"My blood pressure dropped from 180/140 to 122/80 since I started," notes Inouye, who has been stand up paddling for the past two years. "Also, the weight loss is unbelievable. With the proper paddle techniques and diet, along with hydrating yourself, you will become stronger, leaner, and the biggest part of it all is you gain a better sense of who you are."
Paddle Core Fitness meets at Ala Moana Beach Park, by appointment only. For more information, visit www.paddlecorefitness.com.
Most Recent Comment(s):